Extron to Open Product Demonstration and Training Center in Tel Aviv
Public relations contact:
Joe da Silva, Vice President of Marketing
Extron
E-mail: pr@extron.com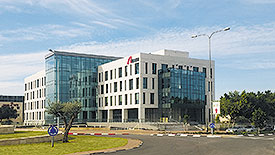 Anaheim, California (June 22, 2015) - Extron Electronics is pleased to announce the opening of a new regional office and product demonstration center in Modi'in, near Tel Aviv, Israel. The new office will provide convenient access to Extron training and certification programs, as well as product demonstrations, for customers in the region. The facility includes meeting space, a product demonstration lab, and workspace to house an expanding sales and support team.
"Customers in the region will be able to learn about the newest technologies and experience product demonstrations locally," says Jérôme Guéras, Extron Vice President of Sales, EMEA. "Our new Tel Aviv facility is part of our ongoing committment to expand our regional facilities and make it easier to reach our customers wherever they are."
The Tel Aviv office will be staffed by a dedicated Extron sales team and will feature a familiar variety of Extron training choices, including hands-on training using real-world scenarios and courses for pursuing various Extron Certifications.
Other Extron regional training facilities are located in the UK, France, Germany, the Netherlands, Sweden, Russia, South Africa, India, Dubai, Singapore, Korea, China, Japan, and Mexico. North American training facilities are located in Anaheim, California; Raleigh, North Carolina; Dallas, Texas; New York City; and Washington, DC.
Visit our Web site at www.extron.com for more information.