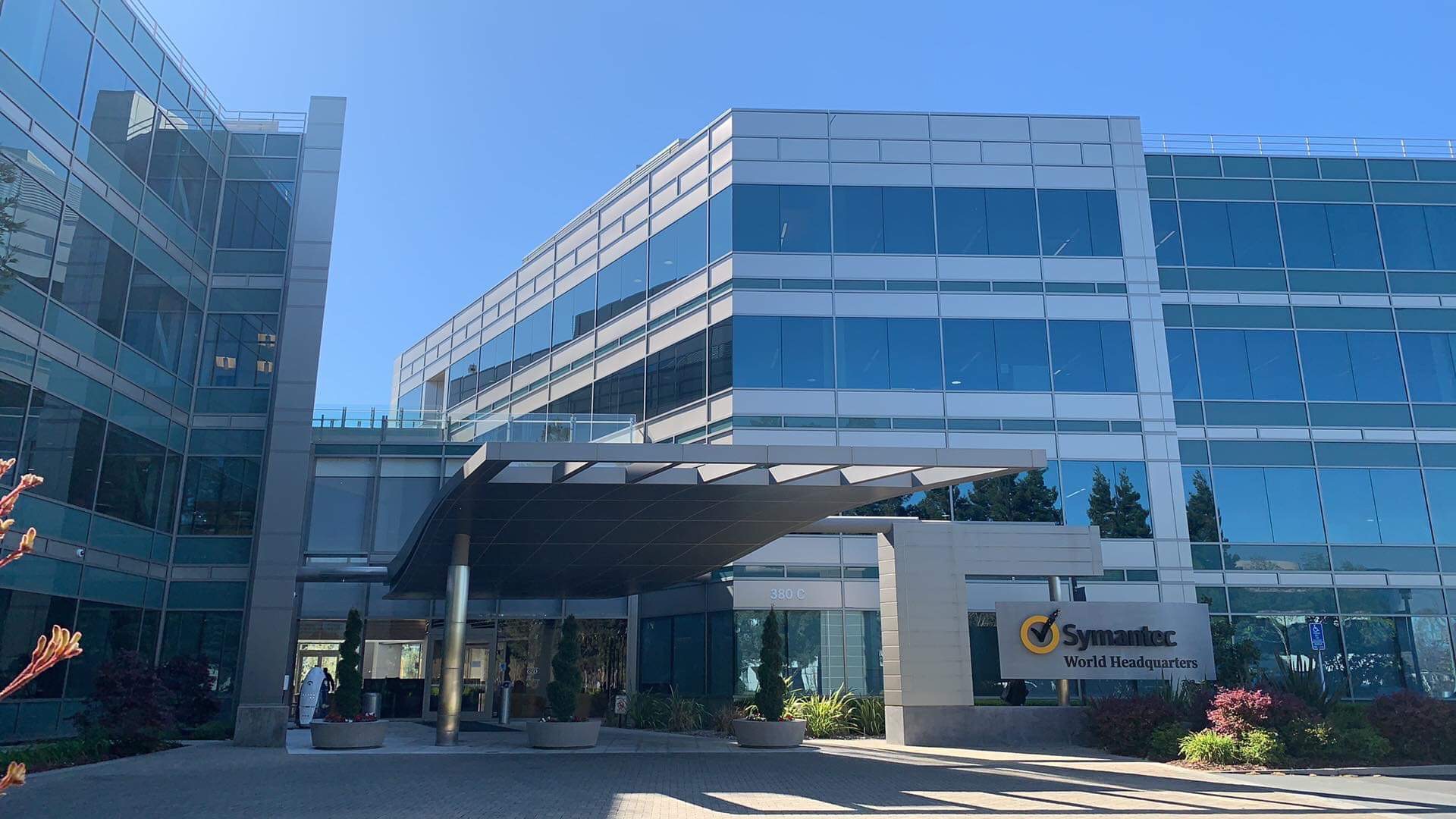 Extron XTP, DTP, VN-Matrix, and Quantum Ultra Drive Customer Engagement at Symantec Experience Center
Extron XTP Systems and Quantum Ultra processors enable us to create the most agile designs. For an AV integrator, it's refreshing to have an AV manufacturer aim to maximize equipment features while catering to the specific use case for the technology.
Challenges
As a global leader in cybersecurity, Symantec Corporation wanted to share their strong brand story while educating customers on network risks and next-generation solutions. They built the Symantec Experience Center at their corporate headquarters in Silicon Valley for this purpose. It required a comprehensive system solution that could evolve with technology.
Solution
System requirements for the center's 25 conference, meeting, and demonstration rooms included high-performance AV switching and distribution, enhanced 4K presentation, and streaming capabilities. The design supports sources such as computers, mobile devices, Apple ® TV, videoconferencing feeds, and wireless communication. Rooms have one or more display devices in sizes ranging between 55" and 98", with nine spaces featuring a videowall. Digital signage located throughout the facility displays content from broadcast sources and streamed media.
Symantec brought in EOS IT Solutions – EOS to design and integrate the center's AV systems. Each system includes either an Extron XTP II CrossPoint® modular matrix switcher or DTP CrossPoint 4K presentation matrix switcher, with XTP ® and DTP ® transmitters and receivers providing signal extension. The streaming system includes over 80 VN‑Matrix 250 Series AV streaming encoders and decoders, and the videowalls are driven by Quantum Ultra 610 videowall processors. Three executive meeting rooms also feature Extron HC 404 Meeting Space Collaboration Systems. For AV system control, the installation includes Extron TLP Pro 1720TG 17" TouchLink ® Pro Touchpanels connected to various standalone and built‑in IP Link ® Pro control processors.
XTP & DTP Enable High-Performance Design & Flexibility
Signal switching and distribution in the divisible conference room is provided by an Extron XTP II CrossPoint 3200 32x32 matrix switcher, while four XTP II CrossPoint 1600 16x16 matrix switchers support the main lobby, welcome lounge, and demo room systems. They are rack-mounted within the AV Control Room. Each XTP II CrossPoint matrix switcher is configured with a combination of 4K HDMI input and output boards for local distribution and XTP CP 4K Twisted Pair input and output boards for signal extension between XTP endpoints and the matrix switchers. Audio signals are also routed to the sound system. The modular design of the XTP matrix switchers provided the flexibility to deploy systems that matched room requirements.
DTP CrossPoint 4K Series 10x8 and 8x4 matrix switchers provide AV signal switching and distribution within various medium and small conference, briefing, and meeting rooms. Selection of the DTP CrossPoint was based on the line's capability to fulfill Symantec's application and performance requirements using a single enclosure. A few of the sought-after features include 4K scaling with seamless switching, DTP extension up to 330 feet (100 meters) over CATx cable, an integrated audio DSP with stereo audio and mic/line support, and internal control processing. Extron's Vector™ 4K scaling technology applies precision 30‑bit processing and maintains 4:4:4 color sampling to provide enhanced color accuracy and picture detail on each scaled output. Seamless switching transitions and logo insertion capability enhance presentations and corporate branding. The DTP CrossPoint 4K Series delivered a fully integrated AV system that simplified integration and reduced total cost of ownership.
Quantum Ultra Videowall Processor Produces Visually Stunning Cybersecurity Demos and Presentations
The two-way divisible conference space, two of the largest conference rooms, the two demo rooms, a briefing room, and the welcome lounge each include a 4x2 videowall. Other videowall configurations are 3x3 in the main lobby and dual 2x2 displays in the pre‑function area. Cybersecurity experts use the videowalls to present a wide variety of situations and Symantec solutions in windowed layouts. Data is delivered using a mixture of video signal types and formats. Content includes broadcast feeds, computer data, and streamed video, as well as from media brought in by clients and visitors.
An Extron Quantum Ultra 610 modular 4K videowall processor drives each videowall, except for the two in the pre‑function area that share one processor. Each Quantum ® processor is configured with a mix of input and output cards specific to the requirements in the space. The fast, accurate source capture, Vector 4K scaling, and predictable, real‑time performance of the Quantum Ultra processor was critical for the variety of simultaneously informative and visually stunning content required within the facility.
VN-Matrix Streaming System Enhances Visitor Experience
Symantec's installation includes a real‑time AV streaming over IP system using the Extron VN‑Matrix ® , with 20 VNE 250 Encoders, 55 VND 250 Decoders, and a pair of VNM Enterprise Controllers. They based this decision on an established record of successful networked AV system deployment, HDCP compliance, and delivery of superior image quality with the VN‑Matrix. The PURE3 ® codec built into the VN‑Matrix system easily manages the challenging array of native display resolutions and aspect ratios with low latency. The components work seamlessly together via a Layer 3 industry-standard network switch to route video streams and receive them at the Symantec endpoints or displays. Feeding the encoders are 20 high-definition video satellite receivers, each tuned to a specific channel. For example, VNE 1 to VND 50 displays ESPN. Each decoder may virtually connect or make ties to one or more encoders. The user-friendly interface offers a simple and quick way to select channels, with the VNM Enterprise Controller coordinating the distribution of each stream to each destination. The redundant controller ensures ties and communication remain intact and available. VN‑Matrix system leverages multicasting network streaming and wavelet video compression technologies for an impressive AV experience.
Results
The Symantec Experience Center was completed within 12 months. it is already considered a top executive business venue in Silicon Valley, proving successful at supporting collaboration between industry-leading security strategists, subject experts, and end users at every level. The AV systems based on Extron technologies enable easy sharing of the latest threat intelligence, security insights, and protection innovations.
"We turn to Extron for a number of reasons, including expert design assistance, durable and versatile products that are compatible with third-party equipment, ease-of-use programming, and, of course, their engineering support before, during, and even after the project," says Andrew Anderson, Senior Project Manager at EOS. "Extron surpassed all expectations throughout the project life cycle and made the process a real collaboration between all parties to achieve the very best result for Symantec's state-of-the-art Experience Center."