Extron Introduces Two and Four Input HDMI Switchers
Public relations contact:
Joe da Silva, Vice President of Marketing
Extron
E-mail: pr@extron.com
Anaheim, California (July 15, 2010) - Extron Electronics is pleased to announce that the SW HDMI LC two and four input switchers are now shipping. These switchers support HDMI 1.3 specification features, including data rates up to 6.75 Gbps, Deep Color, Lip Sync, and HD lossless audio formats. HDCP compliance ensures interoperability with other HDCP-compliant devices. The switchers support all HDTV rates including 1080p/60 with 12-bit Deep Color, and PC resolutions up to 1920x1200. Front panel LED indicators provide visual confirmation of signal presence. Input cable equalization for each input compensates for cables up to 50 feet in length. The SW HDMI LC switchers are ideal for sending HDMI video and embedded multi-channel digital audio to a single display.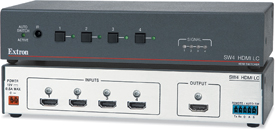 "AV integrators have long turned to Extron for feature-rich, yet cost-effective analog and digital signal switchers that optimize system performance," says Casey Hall, Vice President of Sales and Marketing for Extron. "The SW HDMI LC switchers now bring Extron quality, reliability, and performance to HDMI switching applications, providing integrators and end users alike with the extra measure of confidence that comes with every Extron product."
Input cable equalization corrects for signal loss due to lengthy input cables, ensuring signal integrity for up to 50 feet of Extron HDMI Pro Series cable at 1080p/60 with 8-bit color. The switchers also supply +5 VDC, 250mA on the HDMI output, providing power for peripheral devices such as an Extron HDMI 101 cable equalizer.
Convenient control options allow for easy integration into a variety of environments. These include front panel control, auto-input switching, IR, and RS-232 control. The SW HDMI LC switchers are housed in rack-mountable 1U, half rack width metal enclosures.