Extron Introduces Larger HDMI Switchers with EDID Minder®
Public relations contact:
Joe da Silva, Vice President of Marketing
Extron
E-mail: pr@extron.com
Anaheim, California (June 10, 2010) - Extron Electronics is pleased to introduce two new HDMI 1.3-compatible switchers, the SW6 HDMI with six inputs and SW8 HDMI with eight inputs. These new switchers join previously-introduced two- and four-input models, all featuring Extron EDID Minder®, a unique feature in this product class. All SW HDMI models support HDMI 1.3 specification features including data rates up to 6.75 Gbps, Deep Color, Lip Sync, and HD lossless audio formats. HDCP compliance ensures interoperability with all other HDCP-compliant devices. These switchers support all HDTV rates including 1080p/60 with 12-bit Deep Color and PC resolutions up to 1920x1200. The SW HDMI Series switchers are ideal for routing HDMI video and embedded multi-channel digital audio to a single display.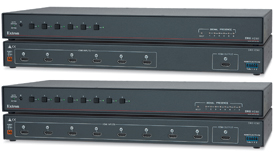 "We incorporated EDID Minder® into the SW HDMI Series to ensure that continuous EDID communication is always maintained between the sources, switcher, and display, providing an extra measure of confidence for AV integrators and users alike," says Casey Hall, Vice President Sales and Marketing for Extron.
To enhance and simplify integration, all models feature EDID Minder®, an Extron exclusive technology that automatically manages the EDID information between the digital display device connected to the output and all input sources. By maintaining continuous EDID communication with the sources, EDID Minder® ensures that all HDMI sources power up properly and maintain their video outputs, whether or not they are actively connected to the digital display device through the switcher's output.
The switchers are HDCP-compliant, allowing display of content protected media. Extron SW HDMI Series switchers provide confirmation of HDCP authentication and signal presence, indicated visually by front panel LED lights.
Selectable input cable equalization reduces the need for additional signal conditioning equipment. Input equalization corrects for signal loss due to lengthy input cables, compensating for up to 50 feet of Extron HDMI Pro Series cable at 1080P/60 with 8-bit color. The switchers also provide +5 VDC, 250mA on the HDMI output for powering peripheral devices such as extenders.