Extron Wins First Ever Inavate Sustainability Award
Public relations contact:
Joe da Silva, Director of Product Marketing
Extron
E-mail: pr@extron.com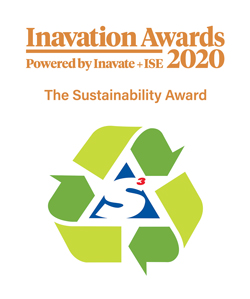 Anaheim, California (March 30, 2020) - Extron is pleased to announce that it has been named the winner of the 2020 Inavate Sustainability Award at the ISE Show in Amsterdam. One of the first ever Inavate Business Awards, the Sustainability Award was given in recognition of how Extron products and technologies contribute to reductions in energy consumption and waste, as well as how the company is reducing its corporate environmental impact. As a member of the global community, with 30 offices around the world, Extron is pleased to receive this industry award for its ongoing efforts in promoting sound environmental practices.
"Our world‐class engineering and manufacturing facilities enable us to develop industry-leading and energy-efficient technologies that meet or exceed all applicable standards and regulations," says Casey Hall, Vice President of Worldwide Sales and Marketing at Extron. "We are focused on advancing our sustainability efforts every year and are proud of the progress we continue to make."
Extron products are designed for maximum efficiency and safety, and the company leads the industry in ensuring that the materials that go into its products meet the most rigorous standards for environmental sustainability.
For more information on Extron, click here.