StudioStation
One Touch Recording Solution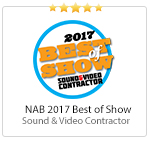 Extron's StudioStation® is a quick, simple, and convenient solution for one-touch recording of high quality video and audio presentations. To turn the system on, insert a USB stick and press the record button to begin recording. Systems are customizable to support any installation. StudioStation solutions are ideal for flipped classroom recordings, lecture capture, product presentations, board meetings, rehearsal spaces, deposition recordings, moot courts, or any other application where convenient, one-button recording is desired.
Simple to Operate
When the user inserts a USB storage device into the remote control panel, the system automatically powers up and is ready for use. Simply press the record button to begin recording. Once the recording is complete, removing the USB storage device places the system into a standby state and turns off any devices connected to the power controller. The core components can be located securely in an equipment rack, with only the control panel and USB connection visible to the user.
Quality Recordings for Any Application
Extron's high performance scaling and flexible signal processing enable superior recording of nearly all HDMI source resolutions. The default recording setup is configured for 720p at 5 Mbps, producing an MP4 media file, which is compatible with virtually any media player or editing software. Using the embedded web page, it is easy to customize the default configuration to meet the needs of many applications.
Key Features
Recording Studio Kit — Preconfigured system for studio recordings, eliminating the need and expense of designing and programming a studio recording system.
One touch recording — Automates all functions for a simplified recording studio where single button press starts recording. Operation is simple and intuitive, with no support staff required.
Automatic communication with IP Link Power Controllers
Works with any HDMI camera or video source — Supports any camera, laptop, or mobile device up to 1080p. The input signal is scaled to match the recording resolution.
Horizontal Video Mirroring — Flips video horizontally to support Light Boards, Learning Glass, or other applications that require reversal of the video image due to the presenter facing the camera while writing.
Records MP4 media files that are compatible with virtually any media player — Recordings are compatible with virtually any software media player, computer, or mobile device.
Power Control for lighting or other devices — Automatically turns on lights and other devices when a USB storage device is connected.
StudioStation kits can be upgraded with video switching and enhanced control options
Remote control panel and tabletop enclosure available in white or black to compliment any decor