Extron Announces Retirement of Vice President of Engineering, Steve Somers
Public relations contact:
Joe da Silva, Vice President of Marketing
Extron
E-mail: pr@extron.com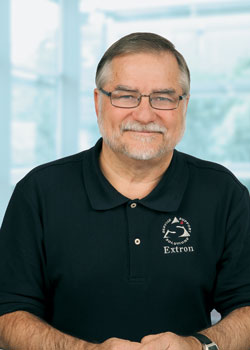 Anaheim, California (March 25, 2019) - Extron announced today that Steve Somers has informed the company of his intention to retire as Vice President of Engineering effective April 1, 2019. Somers has been with Extron since 1988 and has made significant contributions toward making Extron an AV technology leader. Through his efforts, Somers has overseen the expansion of Extron's Engineering department into a world-class team that is at the forefront of technology.
"Under Steve's leadership, Extron has grown the capabilities to engineer and deliver well over 100 new products each year," says Andrew Edwards, President of Extron. "I'd like to personally thank Steve for his dedication and years of service, and to wish him the very best in retirement."
For over three decades, Somers has been an instrumental part of the Extron leadership team, guiding the company's engineering efforts and supervising the team that has developed innovative solutions across all AV technologies. His ingenuity and foresight have been essential in growing the company's catalog to over 5000 products.
"The AV industry is full of limitless opportunity and I'm proud to have been a part of Extron's growth throughout many years of great technological advances. I would like to openly thank Andrew Edwards for the opportunities within such a great company and industry, says Somers. "It has been my personal pleasure to work alongside so many talented professional people both within Extron Engineering and throughout the company worldwide. My best wishes for continued success to all at Extron and to all of my friends over the years in AV."
Somers has been involved in many industry organizations and is recognized for many substantial contributions to our industry throughout his distinguished career. Somers is the recipient of numerous external awards and recognition. In 2009, he was named Infocomm Volunteer of the Year for his work as the engineering manager of the Infocomm Projection Shootout from 1992 to 2001. He has authored numerous Extron publications including articles, technical primers, and white papers. Steve has always been generous with his time and knowledge. Perhaps his greatest passion and legacy has been sharing his talents as a mentor to many young men and women in their engineering careers.
Please help us congratulate Steve Somers on his retirement.