Extron Announces New Features for Surround Sound Processor
Public relations contact:
Joe da Silva, Vice President of Marketing
Extron
E-mail: pr@extron.com
Anaheim, California (July 6, 2010) - Extron Electronics is pleased to announce several new features for the SSP 7.1 Surround Sound Processor, including a seven-channel, nine-band parametric EQ; Live and Emulate operation modes with configuration file saving; and up to 100 ms of lip sync adjustment on each input. These new features can be accessed with Version 2.0 of the Setup and Control Software, which provides a user-friendly interface for simplified setup and control of the SSP 7.1 as well as calibration of the sound system.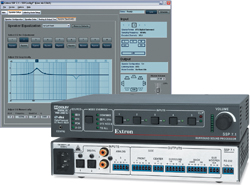 "The SSP 7.1 has been very successful with integrators installing surround sound in commercial environments, due primarily to its pro AV-oriented design and easy-to-use software," says Casey Hall, Vice President of Sales and Marketing for Extron. "The Version 2.0 upgrade significantly enhances the capabilities of the SSP 7.1, adding a seven-channel parametric EQ that offers tremendous flexibility in optimizing sonic performance to the acoustics of the room."
The SSP 7.1 five input Surround Sound Processor provides up to eight channels of surround sound for pro AV applications in corporate and commercial environments. It automatically detects and decodes audio content in various Dolby® and DTS® formats from DVD, Blu-ray Disc, and HDTV broadcasts. The SSP 7.1 also offers Dolby Pro Logic II/IIx and DTS Neo:6® processing to provide surround sound from two-channel stereo. It features coaxial and optical digital inputs, plus an analog balanced/unbalanced two-channel input. The SSP 7.1 is designed for integration into pro AV installations, with a compact, rack-mountable metal enclosure, RS-232 serial control, and balanced/unbalanced line level outputs.