Extron Premieres Professional Surround Sound Processor
Public relations contact:
Joe da Silva, Vice President of Marketing
Extron
E-mail: pr@extron.com
Anaheim, California (May 21, 2009)
- Extron Electronics is pleased to announce the new SSP 7.1, a high performance, five input Surround Sound Processor designed to provide up to eight channels of surround sound for pro AV applications in corporate and commercial environments. The SSP 7.1 automatically detects and decodes audio content in various Dolby® and DTS® formats from DVD, Blu-ray Disc, and HDTV broadcasts. It also offers Dolby Pro Logic II/IIx and DTS Neo:6® processing to provide surround sound from two-channel stereo. The SSP 7.1 features coaxial and optical digital inputs, plus an analog balanced/unbalanced two-channel input. It is designed for integration into pro AV installations, with a compact, rack-mountable metal enclosure, as well as RS-232 serial control and balanced/unbalanced line level outputs. The included control software offers a user-friendly GUI for setup and operation.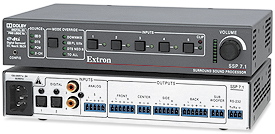 "Integrators are increasingly looking to incorporate surround sound into commercial AV installations, and while consumer surround sound receivers can be a solution, they typically are not convenient for pro AV integration," says Lee Dodson , Vice President of Marketing for Extron. "We've designed the SSP 7.1 to provide much of the same high performance and features in consumer audio gear, as well as essential pro AV integration features including balanced inputs and outputs."
The SSP 7.1 is designed for simple, intuitive operation from the front panel, with LED indicators for source selection, source format detection, surround sound decoding/processing mode, and output volume level. At the touch of a button, the user can override the current surround sound output and switch to a different listening mode, for example, from 5.1 channel Dolby Digital to two-channel downmixed stereo, or from two-channel stereo to 7.1 channels via Dolby Pro Logic IIx. The user also has the option to send stereo audio to all left and right speakers without surround sound processing.
The SSP Setup and Control Software features an intuitive user interface for efficient setup and control of the SSP 7.1 as well as calibration of the sound system. Using the software, an integrator can specify the number and size of all speakers in the system, and enter the distance of each speaker from the central listening position, or location where acoustical measurements are taken. For bass management, the crossover frequency can be selected. The SSP 7.1 generates test signals including bandpass and full-bandwidth pink noise to facilitate calibration of sound pressure levels from all speakers, and to fine-tune a speaker's interaction with the acoustical environment.
Dolby and the double-D symbol are trademarks of Dolby Laboratories. DTS is a registered trademark & the DTS logos and Symbol are trademarks of DTS, Inc.