CS 1226T
Two-Way 70/100 V SpeedMount Ceiling Speaker System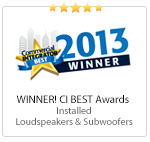 The Extron CS 1226T SpeedMount® Ceiling Speaker System is a patented low profile, plenum rated two-piece speaker system designed for division-of-labor installations. The speaker system features the newest speaker innovation from Extron, a unique speaker design that greatly simplifies ceiling speaker installation and delivers significant time and cost savings. It consists of the CS 120P plenum rated enclosure and a CS 26T two-way speaker cartridge. A low-voltage contractor places the CS 120P enclosure directly on the ceiling grid without the need for a tile bridge, C-ring, or tile rails. Signal wiring is then routed to the enclosure. This dramatically cuts installation time and costs during the rough-in phase. Later, an AV technician can quickly complete installation by connecting the CS 26T speaker cartridge to the system and securing it into the enclosure. The CS 1226T is part of Extron's expanding lineup of speaker system solutions that divide the installation labor between contractors, reduce parts counts, and streamline sound system integration.
---

---
Key Features
Patented two-piece speaker system for suspended ceilings in division-of-labor installations:

CS 120P plenum ceiling tile enclosure, 1' x 2' (30.5 cm x 61 cm), pair
CS 26T two-way speaker cartridge, pair
Components available separately or together in a CS 1226T complete assembly

Enclosure and speaker cartridge can be installed separately by low-voltage and AV system contractors
Provides significant time and cost savings in ceiling speaker installation
3/4" (1.9 cm) dome tweeter
6.5" (16.5 cm) woofer with a tuned bass reflex port
8 ohm direct or 70/100 volt operation on a 6 position, behind-the-grille selector
Frequency range: 70 Hz to 20 kHz
30 watts continuous pink noise, 60 watts continuous program
Thin bezel and magnetically attached grille
Fast-installing enclosure speeds installation; no tile bridge necessary
UL 2043 plenum rated enclosure
Low profile, 5" (12.7 cm) deep enclosure for plenum environments
Compatible with US 2' x 2' ceiling grids and metric 600 mm x 600 mm ceiling grids
5 year parts and labor warranty
Integrated Tile Bridge
The CS 120P enclosure features an integrated tile bridge that evenly distributes the weight of the enclosure and the CS 26T speaker cartridge on the ceiling grid. This avoids the hardware traditionally needed to support conventional ceiling speakers, and reduces associated labor costs.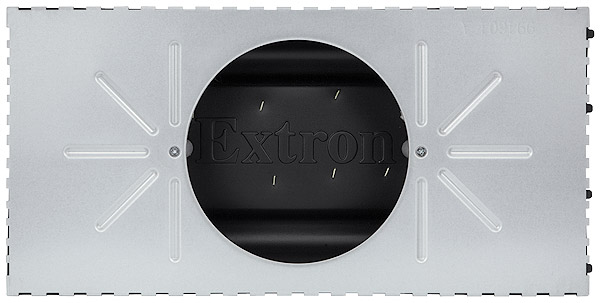 Labor and Cost Savings
No separate tile bridge
No C-rings
No tile rails
No small parts to lose
Faster install
Shallow Plenum Return Airspace
Many conventional ceiling speaker back cans may not be ideal for ceiling space locations with obstructions such as fire sprinkler piping or HVAC ducting. The CS 120P features a shallow 5" profile for installation in areas with shallow clearances above the ceiling.

Removable Sizing Tabs for 600 mm x 600 mm Ceilings
The CS 120P enclosures are delivered from the factory for installation into US-style 2' x 2' suspended ceiling grids. However, the CS 120P is compatible with metric 600 mm square ceiling grids as well. All that is necessary is to cut off the sizing tabs at the ends of the enclosure. The CS 120P can therefore be specified for a wide variety of worldwide suspended ceiling standards.