Extron and Somfy Partner to Integrate AV and Environmental Controls
Public relations contact:
Joe da Silva, Vice President of Marketing
Extron
E-mail: pr@extron.com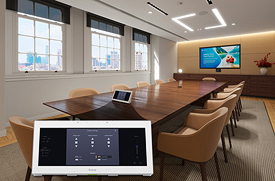 Anaheim, California (October 5, 2021) - Extron is pleased to announce our partnership with Somfy, the world's largest manufacturer of tubular motors for interior window coverings, projection screens, and exterior solar protections. Working together, we are combining Extron control capabilities with Somfy powered products for today's smart-building projects. Facility managers and AV professionals will appreciate the simple installation, setup, automation, and control that is possible when an Extron control system is integrated with Somfy powered products. A simple press on the Extron touchscreen allows the user to adjust motorized shades and projection screens, and interact with other AV equipment in the room, enhancing the experience and versatility of lecture halls, conference rooms, and meeting spaces.
"At Somfy we are committed to simplifying smart-building control and elevating the room experience for the specifiers and installers, as well as for the people in the space," said, Brittany Mier y Terán, Partnerships and Custom Integration Channel Manager, Somfy North America. "We are excited to work with Extron – a leader in AV Technology – to bring Somfy powered product control together with touchpanel and AV integration."
"We are very excited to offer our customers all the advantages of the Somfy motorized window covering controls using the simplicity of our Extron control system products," says Casey Hall, Vice President of Worldwide Sales and Marketing for Extron. "By working with Somfy, we know that our customers are getting a truly reliable, convenient, and integrated experience."
Through the integration of Somfy powered products and Extron Control System Drivers and Device Modules, you can access even more smart features. Somfy powered products can work in concert with an occupancy sensor, providing touchfree automatic control. This room automation can raise the shades and projection screen when a room is no longer in use, or can lower the appropriate shades in preparation for a presentation based upon lighting level in the room. Somfy powers products from leading motorized shade and projector screen manufacturers such as Hunter Douglas, Stewart Filmscreen, Draper, MechoShade, and more.
The Extron control processor communicates with the Somfy powered products via standard control protocols. The shades and projector screens then provide a responsive room control experience as part of the complete smart-building solution. Sensors can be used to trigger automated settings for shades and projector screens based on room occupancy, ambient light level, and more.
About Somfy Systems, Inc.
Somfy has been improving everyday life for more than 270 million people by designing and manufacturing intelligent motorization solutions for interior window coverings and exterior solar protections. Somfy innovates to automate and connect shades, blinds, draperies, awnings, rolling shutters, exterior screens, and pergolas for commercial and residential buildings in 58 countries across the globe. With 170+ million motors produced over the last half-century, Somfy is committed to creating reliable and sustainable solutions that promote the best way of living and well-being for all. For more information, visit www.somfysystems.com
For more information on the work Extron is doing with Somfy, click here.