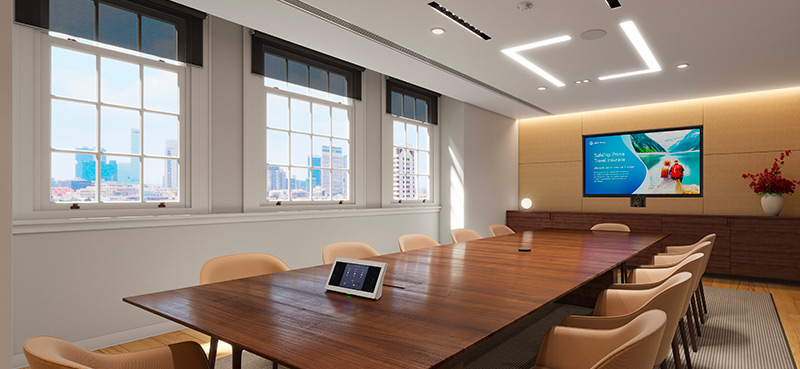 Extron and Somfy
Extron and Somfy Partner to Integrate AV and Environmental Controls
We are pleased to announce our partnership with Somfy, the world's largest manufacturer of tubular motors for interior window coverings, projection screens, and exterior solar protections. Working together, we are combining Extron control capabilities with Somfy powered products for today's smart-building projects. Facility managers and AV professionals will appreciate the simple installation, setup, automation, and control that is possible when an Extron control system is integrated with Somfy powered products. A simple press on the Extron touchscreen allows the user to adjust motorized shades and projection screens, and interact with other AV equipment in the room, enhancing the experience and versatility of lecture halls, conference rooms, and meeting spaces.
Through the integration of Somfy powered products and Extron Control System Drivers and Device Modules, you can access even more smart features. Somfy powered products can work in concert with an occupancy sensor, providing touchfree automatic control. This room automation can raise the shades and projection screen when a room is no longer in use, or can lower the appropriate shades in preparation for a presentation based upon lighting level in the room. Somfy powers products from leading motorized shade and projector screen manufacturers such as Hunter Douglas, Stewart Filmscreen, Draper, MechoShade, and more.
The Extron control processor communicates with the Somfy powered products via standard control protocols. The shades and projector screens then provide a responsive room control experience as part of the complete smart-building solution. Sensors can be used to trigger automated settings for shades and projector screens based on room occupancy, ambient light level, and more.
Key Features
Build an integrated control solution for Somfy powered products and an AV system using Extron Pro Series Control Systems with Extron-certified Somfy drivers and modules
Provide simple and robust communication with Somfy powered products via standard control protocols - RS-232, RS-485, and Ethernet
Use occupancy and light sensors along with the real-time system clock to create Smart Building applications for Somfy powered window coverings and screens
Create a superior in-room experience by using automation and simple control for all AV and room devices from a single Extron touchpanel or button panel
Conference Room
In this conference room, the Somfy Connect™ Universal Automation Interface (UAI) Plus is interfacing with an Extron control system. This achieves full integration of the Somfy Digital Network™ (SDN) over IP using the Extron Certified Control System Driver. These Global Configurator Plus and Global Configurator Professional drivers, available for the full range of Somfy motors and controllers, allow users the flexibility to manually operate the shades or select from various presets to automatically adjust the position of the shades for the desired room application.
Complementary modules have also been created for use in the ControlScript programming environment using Global Scripter. All of these control features can be accessed using the Extron TLP Pro 1230WTG residing on the conference room table.
The TLP Pro 1230WTG together with the Extron IPCP Pro 250 xi Control Processor enables users to easily control the room's environment and AV system from the same interface.