The SMP 351 Now Integrates with Opencast Media Server to Automate Lecture Capture
Public relations contact:
Joe da Silva, Vice President of Marketing
Extron
E-mail: pr@extron.com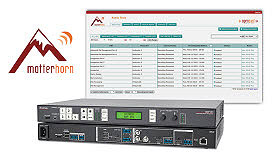 Anaheim, California (May 12, 2015) - Extron Electronics is pleased to announce the Extron SMP 351 now integrates with Opencast Media Server to create end-to-end solutions for recording AV presentations, from scheduling to publishing. Opencast is a free, open-source platform for the management of AV media recorded in training and education environments. The Extron SMP 351 Streaming Media Processor serves the role of a "capture agent" in an Opencast system. It combines a presentation source and camera video of the instructor with a background image into flexible layouts, which deliver the live presentation experience.
"Higher education and training environments that record high volumes of presentations require a complete solution to automate and streamline the recording workflow," says Casey Hall, Vice President of Sales and Marketing for Extron. "Operating from an organization's IT system, the Extron SMP 351 and Opencast provide a comprehensive solution for the management of AV recordings."
Organizations use Opencast to schedule, process, and distribute AV recordings to Learning Management Systems – LMS such as Blackboard, Moodle, or Sakai, or Content Management Systems – CMS such as Kaltura, YouTube, or iTunes University. Opencast also provides a video-on-demand server that provides a browser-based player interface to play back recorded media. Recording schedules can be entered and managed directly from Opencast, while the SMP 351 continuously updates schedule data for reliable initiation of recording sessions. The SMP 351 delivers long recordings to Opencast as sequential MP4 files that maintain the complete audio and video program with no gaps, ensuring that events are captured in their entirety.
To watch a product introduction video, please visit www.extron.com/smpopencastvideo
For more information on integrating the SMP 351 with Opencast Media Server, please visit: www.extron.com/smpopencastpr