New Extron SMP 111 Upgrades for Live Streaming to Kaltura and Panopto Now Available
Public relations contact:
Joe da Silva, Director of Product Marketing
Extron
E-mail: pr@extron.com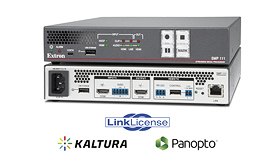 Anaheim, California (July 9, 2020) - Extron is pleased to announce two new LinkLicense upgrades for SMP 111 Streaming Media Processors. These LinkLicense upgrades empower Extron SMP 111 users to seamlessly stream live event broadcasts to Kaltura or Panopto video management systems.
"We recognize the increasing need for live streaming in corporations and educational institutions," says Casey Hall, Vice President of Worldwide Sales and Marketing at Extron. "With our new LinkLicense upgrades, live event streaming from the SMP 111 to the Kaltura or Panopto platforms becomes a truly seamless experience."
With the rise of online learning, flipped classrooms, lecture capture, and virtual meetings, educational institutions and corporations will enjoy a unified and integrated live streaming experience from SMP 111 Streaming Media Processors to either the Kaltura or Panopto video management platform.
For more information about the LinkLicense Upgrades for SMP 111 Live Streaming, click here.