Extron SME 100
H.264 Encoder for Pro AV System Integration
The Extron SME 100 is not like any live streaming encoder on the market today. It is designed specifically to support a wide variety of video formats required in pro AV applications, and features integrated switching with loop-throughs for easy integration into pro AV systems. The SME 100 interfaces with DVI, RGB, HDTV, and standard definition sources. It employs standards-based H.264 / MPEG-4 AVC encoding to output an IP stream that can easily be decoded and viewed on desktop or laptop PCs and is compatible with many third-party devices such as set-top box decoders. Use with the Extron SMD 101 H.264 Streaming Media Decoder to provide complete end-to-end streaming solutions. High performance Extron signal processing scales and optimizes video input signals for the intended viewing application. The SME 100 is the pro AV integrator's ideal choice for delivering AV media over networks.
Key Features
Streams DVI, RGB, HDTV, and video signals with audio over IP networks
Use with the SMD 101 H.264 decoder to provide complete end-to-end streaming systems
Standards-based H.264 / MPEG-4 AVC video compression
Compatible with many third-party H.264 devices including set-top box decoders
Integrated three-input AV switcher
Buffered input loop-throughs for video and audio
Supports input signal resolutions up to 1920x1200, including HDTV 1080p/60
DVI, RGB, HDTV, and standard definition video upscaling and downscaling
Selectable streaming output resolutions from 166x120 to 1024x768, and HDTV 720p/30 and 1080p/30
Adjustable encoder bit rate and quality
EIA-608B closed captioning support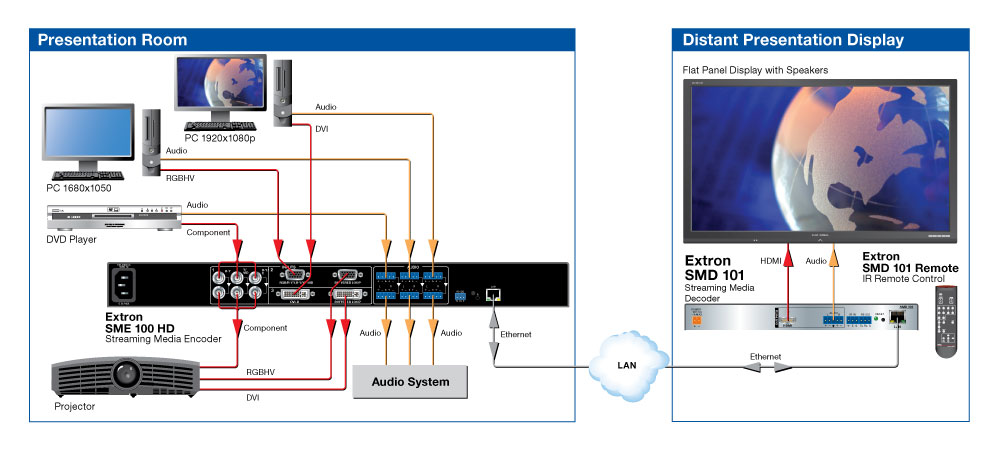 Monitoring
Monitor AV systems remotely at a helpdesk or any PC throughout an enterprise network.


Overflow
Stream videoconference or presentation sessions to overflow rooms.


Enterprise Broadcast
Distribute content from centrally located media assets such as VCRs, DVD players, or PCs to classrooms or meeting rooms.


Media Server or CDN
Integrate live video streaming of meetings or events to Media Servers or Content Delivery Networks for broad distribution across an enterprise or the Internet.