Extron Now Shipping SM 28 Fast Installing, Two-Way Surface Mount Speaker
Public relations contact:
Joe da Silva, Vice President of Marketing
Extron
E-mail: pr@extron.com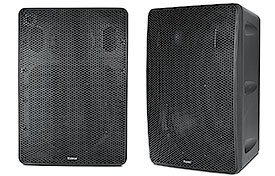 Anaheim, California (June 29, 2015) - Extron Electronics is pleased to announce the immediate availability of the SM 28 SpeedMount Surface Mount Speaker, a two-way speaker with a patent pending, concealed wall mounting system. This 8 ohm speaker features an 8" (20.3 cm) woofer with dual tuned ports and a 1.1" (2.8 cm) tweeter. The SM 28 provides a frequency range from 59 Hz to 22 kHz, and a power rating of 90 watts continuous pink noise, 180 watts continuous program capacity. The Extron exclusive mounting system is designed to accommodate division-of-labor installations and save costs.
"SpeedMount has quickly become a favorite of AV integrators, and we are pleased to bring the fast installation capability to the larger format SM 28 speaker," says Casey Hall, Vice President of Sales and Marketing for Extron. "Our exclusive mounting system allows a large number of SM 28 speakers to be installed quickly and efficiently, so that multiple sound systems can be completed within a short installation window."
To meet a variety of installation needs, the extremely flexible mounting system includes a 0° mounting plate and a 10° mounting adapter. The 0° mounting plate provides the electrical connections and allows the SM 28 to be oriented vertically or horizontally, flush with the wall. When the versatile 10° mounting adapter is added to the mounting plate, the SM 28 can be positioned with a 10° tilt downward, upward, left, or right.
The SM 28 saves time and installation costs for AV system contractors working with low-voltage contractors in a division-of-labor installation. During rough-in, a low-voltage contractor installs the mounting system on the wall and terminates the speaker cable to the mount's integrated wiring contacts. Later, the AV system contractor completes the installation by sliding the SM 28 onto the mount.
The SM 28 is sold in pairs and carries a 5 year parts and labor warranty. It is available in a black or white finish and includes a 0° mounting plate and a 10° mounting adapter. Also available is an optional yoke mount kit for the SM 28. It allows for vertical or horizontal speaker mounting on a wall, or on a ceiling, and provides 180° of pivot in 10° detented steps.
To watch a product introduction video, please visit: www.extron.com/sm28nsvideo
For more information on the SM 28, please visit: www.extron.com/sm28nspr