SM 28 SpeedMount Two-Way Surface Mount Speakers with 8" Woofer
Fast and Easy Installation with an Exclusive, Concealed Mounting System
The Extron SM 28 SpeedMount® Surface Mount Speaker features an innovative, patented wall mounting system. Speed up your speaker installations with a concealed speaker mounting system that can be installed during rough-in with speaker cable terminated to the integrated wiring contacts. During final construction, simply slide the speaker onto the mount to secure it into place, as the speaker is automatically connected to the wiring contacts in one installation step. A hidden mechanism allows the speaker to be locked into place with a unique key to deter theft. The SM 28 delivers a frequency range from 59 Hz to 22 kHz for accurate voice and detailed music reproduction. It is available as a standard 8 ohm model, and an SM 28T version which can operate in 8 ohm direct as well as 70/100 volt modes, and features a six-position power tap selector for up to 64 watts.
Key Features
Patented, concealed mounting system
Included 0° mounting plate and 10° mounting adapter provide flexible installation options
Designed to accommodate division-of-labor installations and save costs
8" (203 mm) long-throw woofer with dual tuned bass reflex ports
1.1" (28 mm) silk dome tweeter
Two versions available for low impedance or 70/100 volt systems:

8 ohm direct operation only
8 ohm direct and 70/100 volt operation

Convenient six-position, through-the-grille power tap selector on the SM 28T:

8 ohm direct
70 volt: 64, 32, 16, 8 watt, Off, selectable
100 volt: 64, 32, 16 watt, Off, Null, selectable

Optional pivot mount allows for 360° of speaker rotation
Optional Yoke Mount allows 180° of speaker pivot in 10° detented steps
Frequency range: 59 Hz to 22 kHz
90 watts continuous pink noise
180 watts continuous program
Internal driver overload protection
Hidden locking speaker release mechanism
Black or white high-impact enclosure
5 year parts and labor warranty
Fast-Installing Mounting System
Concealed speaker mounting hardware simplifies and speeds up installation.
STEP 1
Pull speaker wire, either through conduit & back-box or by direct pull.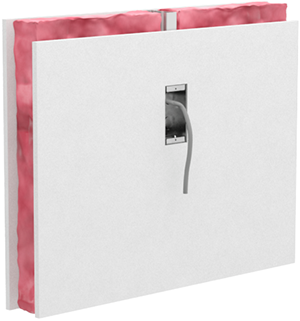 ---
STEP 2
Attach plate to wall or stud, and connect speaker wire to contacts on plate. The SM 28 includes a 0° mounting plate and a 10° mounting adapter.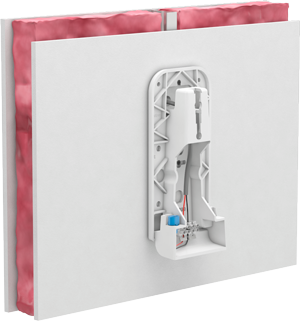 ---
STEP 3
Simply slide speaker onto plate. Speaker may be locked into place with a unique key.