Extron ShareLink 200 Wins GESS Education Award
Public relations contact:
Joe da Silva, Vice President of Marketing
Extron
E-mail: pr@extron.com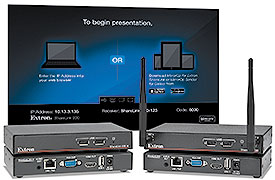 Anaheim, California (March 18, 2015) - Extron Electronics is proud to announce that the ShareLink 200 Wireless Collaboration Gateway was honored with an award at the Global Education Supplies and Solutions – GESS gala dinner held this month in Dubai, United Arab Emirates. ShareLink 200 was recognized as the Best Resource or Equipment in the non‑ICT category. Finalists are determined based on how a product or service meets the needs of schools today. Additionally, the company must demonstrate outstanding customer care and an exceptional standard of service to education.
"We are extremely pleased that the ShareLink 200 has been recognized as the best BYOD wireless solution for the education market," says Rainer Stiehl, Vice President of Marketing for Europe. "The testimonials that GESS received from schools and colleges illustrates the positive impact this collaboration gateway can have on learning and how it benefits the instructor in the classroom."
The ShareLink 200 enables anyone to present content from a personal device. Supported devices include Windows® and OS X® computers as well as Apple® and Android® smartphones and tablets. ShareLink technology provides simultaneous display of presentations, images, documents, and other content from up to four different personal devices, eliminating the need to constantly change sources during a session. Content from a single device shows full screen, and content from multiple devices appears simultaneously in four windows on the display. Any user can share content and control the presentation when it is set to collaboration mode. For the instructor, a moderator mode ensures only approved content is displayed. Designed for professional AV applications, this wireless gateway also includes many integrator-friendly features such as WebShare technology, Power over Ethernet – PoE, and UL 2043 plenum rating. The collaboration gateway is available in two models: one with an integrated wireless access point – WAP for a standalone system and a network-only version that works in concert with the facility's existing wireless networks. Both models of the ShareLink 200 can be used to create a wireless collaboration and presentation system to add mobile device support to a variety of AV system designs.
For more information about the ShareLink 200, please visit: www.extron.com/sharelink200