Extron Introduces New SoundField Wide Coverage Two-Way Ceiling Speakers
Public relations contact:
Joe da Silva, Vice President of Marketing
Extron
E-mail: pr@extron.com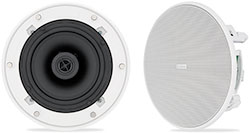 Anaheim, California (November 20, 2013) - Extron Electronics is pleased to announce the immediate availability of the SoundField SF 26X, a two-way ceiling speaker featuring an open back and coaxial dual driver design for use in non-plenum airspace environments. The driver complement includes a 6.5" (16.5 cm) woofer coupled to a 3/4" (1.9 cm) ferrofluid-cooled dome tweeter. The SF 26X provides a frequency range of 50 Hz to 20 kHz for accurate voice and detailed music reproduction. This speaker offers a nominal impedance of 8 ohms, and is engineered with a wide, uniform 110° conical coverage and uncolored off-axis response. The SF 26X features a thin-edged bezel for a refined appearance on the ceiling, and a magnetically attached grille.
"The SF 26X improves upon our very successful line up of ceiling speakers with a contemporary design and enhancements that simplify installation," says Casey Hall, Vice President of Sales and Marketing for Extron. "This speaker offers refinements in sonic detail, and optimal off-axis response to deliver vocal clarity with wide coverage."
Music reproduction is enhanced with the exceptional low-frequency response of the polypropylene woofer, which is specifically designed for infinite baffle environments, and extends the frequency range down to 50 Hz. The pivoting dome tweeter allows aiming of the mid and high frequencies for best area coverage and proper imaging. The SF 26X is designed for 8 ohm direct connection to power amplifiers, and provides a simple means to wire speakers in parallel for 4 ohm amplifier operation. It features a power rating of 25 watts continuous pink noise and 50 watts continuous program capacity.
The SF 26X is sold in pairs and carries a 5 year parts and labor warranty.
To watch a product introduction video, please visit: www.extron.com/sf26xvideo
For more information on the SF 26X, please visit: www.extron.com/sf26xpr