Extron Expands Pendant Speaker Line with New Larger Two-Way Model
Public relations contact:
Joe da Silva, Vice President of Marketing
Extron
E-mail: pr@extron.com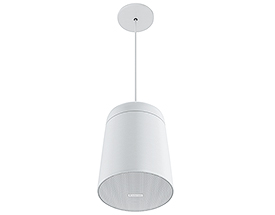 Anaheim, California (August 13, 2018) - Extron is pleased to introduce the Extron SF 26PT, a two-way pendant loudspeaker for high performance program or music playback in high-ceiling and open-ceiling applications. Taking inspiration from modern pendant lighting, the SF 26PT joins the SF 3PT pendant speaker, an architecturally clean, patent pending design that complements the aesthetic of contemporary interiors. The SF 26PT is available in black or white and is paintable to fit in with any décor. The included Extron-exclusive PendantConnect speaker cable combines the speaker wires and steel support cables within a single outer jacket, providing a finished installation that is clean and secure. The UL listed SF 26PT offers both direct 8 ohm and 70/100 volt operation and is voiced similarly to the Extron SF 26CT for consistency and installation flexibility in mixed ceiling environments.
"When we introduced our first pendant loudspeaker, the SF 3PT, the response from AV system designers was overwhelmingly positive, but we soon realized that we would also need a larger version to meet the requirements of high performance pendant speaker applications," says Casey Hall, Vice President of Worldwide Sales and Marketing for Extron. "The SF 26PT meets the need head-on with a two-way design based around a 6.5" driver that maintains the unobtrusive, patent pending design language established by the SF 3PT."
The SF 26PT pendant speaker comes with everything needed for a typical installation, including 30 feet (9.1 m) of PendantConnect PCC-2 speaker cable, an Extron exclusive hybrid design incorporating the speaker wires and steel support cables into a single outer jacket, allowing for a secure and seamless integration using only a single cable.
For more information about the SF 26PT, click here.