The Ceiling Speaker Reimagined
6.5" Long Throw Woofer & 3/4" Ferrofluid-cooled Dome Tweeter

UL 2043 Plenum Rated Composite Back Can

130 Watts Continuous Program Power Handling

Locking Arms Supports Ceilings Up To 2.25" Thick

New Low Profile Model with 4.2" Back Can
SF 26CT Series
SoundField XD 6.5" Two-Way Ceiling Speakers for Plenum Environments
The Extron SoundField® XD SF 26CT models are 6.5" two-way ceiling speakers featuring an 8" (203 mm) or 4.2" (107 mm) deep composite back can for use in standard or restricted height ceiling environments. The driver complement includes a 6.5" (165 mm) woofer coupled to a 3/4" (19 mm) ferrofluid‑cooled dome tweeter. With the AV industry's first UL 2043 listed composite speaker enclosure, the SF 26CT series meets stringent UL requirements for smoke and heat release in plenum air spaces. A magnetically attached grille with a thin-edged bezel gives the SF 26CT series a refined appearance on the ceiling. The SF 26CT series offers direct 8 ohm and 70/100 volt operation with a behind-the-grille, six position power tap selector switch. With high impedance taps at 8, 16, 32, and 64 watts, the SF 26CT series can be used in applications where a high power distributed speaker system is needed.
The SF 26CT series provides a wide and smooth frequency range and is engineered with a 95° conical dispersion that ensures excellent on and off axis voice intelligibility. A power rating of 130 watts continuous program also gives this speaker plenty of headroom for music reproduction in moderate to high output systems.
Features

Low Profile Back Can

The SF 26CT LP has a 4.2" back can for use in restricted height applications

6.5" Long Throw Woofer

Provides rich bass for music reproduction

3/4" Ferrofluid-cooled Dome Tweeter

For smooth high frequencies and intelligibility

Standard Profile Back Can

The SF 26CT has an 8" back can for maximum bass

Magnetically Attached Grille

Allows fast and easy, tool-free installation

Opti-Torque Indicator Ring

Prevents damge from overtightening the locking arm screws

Front Baffle Tap Selection

Select low impedance or high impedance operation

UL 2043 Plenum Rated

Approved for installation within a plenum airspace
Designed for Pro AV
The SF 26CT series represents a new paradigm in speaker technology for pro AV applications. We designed these models from the ground up with innovative materials, modular construction, and unique features, to provide significant cost savings and superior performance.
Voicing Consistency
The SF 26CT Series is voiced consistently with the Extron SF 26PT pendant speaker to ensure smooth sonic transitions in applications when the listener moves between drop-ceiling and open-ceiling areas.
Plenum Rated Composite Enclosure
The ideal speaker enclosure is constructed in such a way as to avoid internal standing waves and resonances in the enclosure itself. It must also be lightweight and fire tested for use in plenum air-handling spaces. We were able to achieve all of these requirements by injection molding the enclosure with a fire resistant composite material. The result is a rigid, acoustically damped, lightweight, plenum rated enclosure that is UL 2043 listed.
Supports Division of Labor and Single Trade
Shipped as a complete speaker assembly, the SF 26CT series is ideal for both single-trade and division-of-labor installations. The speaker can be installed by a single contractor as a self-contained unit for retrofits and new construction. For larger projects with multiple trades, the back can and driver/baffle assembly can be separated, allowing the rough-in contractor to install and fully terminate the back can. Once the job site is clean and secure, the AV integrator can then easily install the driver/baffle assembly and grille.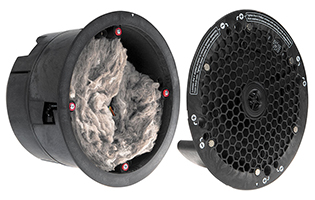 Opti-Torque Indicator Ring
The SF 26CT series features exclusive Opti-Torque™ indicator rings that provide a visual indication when the locking arm screws have been sufficiently tightened, preventing damage caused by overtightening. As the installation technician tightens the locking arms, the red Opti-Torque indicator ring will audibly snap when the proper torque has been applied. As a visual indicator, the red ring drops down onto the screwdriver shaft, signaling to the technician that the proper force has been applied.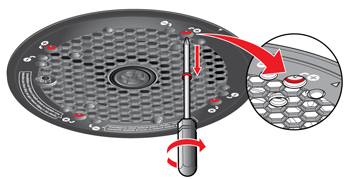 Magnetically Attached Aesthetically Pleasing Grille
The SF 26CT series features a finely perforated round metal grille with a thin-edged rounded bezel for a refined appearance on the ceiling. The grille securely attaches magnetically to the baffle and quickly snaps into place. An optional square grille is available with the same finely perforated metal and thin-edged rounded bezel. This gives the owner, architect, or interior designer an additional choice for matching the décor. The grilles are white and can be painted to match the architectural elements of the environment.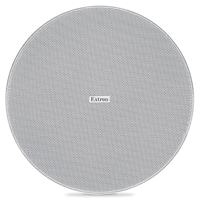 Modular V-Rail and Foldable C-Rings
To facilitate installation in a T-bar ceiling, innovative modular V-rail and foldable C-rings are included with the SF 26CT series. The V-rails have been designed as a two-part assembly that can be snapped together in the field. The foldable C-rings have been designed to make them easier to maneuver into place, even in blind-mount drywall applications. The installer snakes the C-ring up through the speaker cut-out, unfolds it, and positions it as needed. The result is a continuous metal support around the entire cut-out, resulting in a more secure attachment to the ceiling.
Application Diagram
In this installation where the plenum space is inconsistent, the SF 26CT is used where there is enough height and the SF 26CT LP is used where the height is restricted by obstructions such as HVAC. This system uses a NetPA U 1002-70V as a complete solution with its integrated DSP and combined Dante & analog connectivity.