Extron Delivers Two-Way Ceiling Speaker with Low Profile Back Can
Public relations contact:
Joe da Silva, Vice President of Marketing
Extron
E-mail: pr@extron.com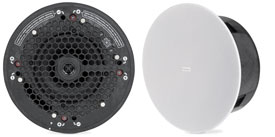 Anaheim, California (December 10, 2020) - Extron is pleased to announce the immediate availability of the SoundField® XD model SF 26CT LP, a low profile 6.5" two-way ceiling speaker featuring a 4.2" (107 mm) deep composite back can for use in restricted height plenum environments. The driver complement includes a 6.5" (165 mm) woofer coupled to a 3/4" (19 mm) ferrofluid-cooled dome tweeter. The SF 26CT LP offers both direct 8 ohm and 70/100 volt operation with a behind-the-grille, six position power selector switch. With high impedance taps at 8, 16, 32, and 64 watts, the SF 26CT LP is ideal for applications that require a high power distributed speaker system in plenum spaces that will not accommodate a taller back can.
"The popularity of our SF 26CT two-way ceiling speaker has led to many requests for a comparable speaker for applications where there is less space above the drop ceiling", says Casey Hall, Vice President of Worldwide Sales and Marketing at Extron. "With its low profile design, the SF 26CT LP is ready to bring exceptional audio quality to installations where it was previously impossible to fit a two-way speaker."
The SF 26CT LP continues the new paradigm in speaker technology for pro AV applications that began wtih the Extron SF 26CT. With innovative materials, modular construction, and unique features, these SoundField XD speakers provide significant savings and superior performance.
For more information on the SF 26CT LP, click here.