Extron In-Ceiling Subwoofer Wins Commercial Integrator BEST Award for Installed Loudspeakers and Subwoofers
Public relations contact:
Joe da Silva, Vice President of Marketing
Extron
E-mail: pr@extron.com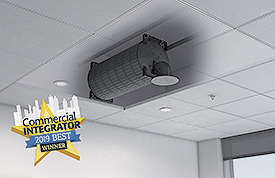 Anaheim, California (June 26, 2019) - Extron is proud to annouce that our SF 10C SUB SoundField In-Ceiling Subwoofer was honored by Commercial Integrator with the Commercial Integrator 2019 BEST Award for Installed Loudspeakers and Subwoofers. The BEST Awards - Best Electronics Systems Technologies - from Commercial Integrator is an annual collection of the most outstanding AV products impacting the commerical integration industry. These awards were judged by industry leaders and Commercial Integrator editors, with special consideration given to innovation, functionality, competitive advantages, and benefits to the installer.
"We are honored to be recognized by Commercial Integrator for the hard work that went into the development of the SF 10C SUB", says Casey Hall, Vice President of Sales and Marketing at Extron. "This innovative design has been well received in the field and is changing the way people think about subwoofers."
The Extron SF 10C SUB is an in-ceiling subwoofer that complements the Extron range of ceiling and pendant speakers by extending the low frequency response in music and high performance audio applications. Designed to be suspended above the ceiling structure, the unique design of the plenum rated SF 10C SUB allows it to be hidden from view and decoupled from the ceiling grid to greatly reduce rattling. The 10" (254 mm) low frequency driver has 800 watts continuous program handling capacity from a direct 8 ohm connection for deep and powerful bass. The 4th order bandpass design and rigid composite in-ceiling enclosure is an industry first that achieves low frequency extension down to 25 Hz with high transient response and low resonance. The SF 10C SUB can also be installed free standing with the optional SMK F SF 10C floor standing kit.
For more information on the SF 10C SUB, click here.