The Powerful In-Ceiling Subwoofer That Won't Rattle The Ceiling
SF 10C SUB
SoundField In-Ceiling Subwoofer
The Extron SF 10C SUB is an in-ceiling subwoofer that complements the Extron range of ceiling and pendant speakers by extending the low frequency response in music and high performance audio applications. Designed to be suspended above the ceiling structure, the unique design of the plenum rated SF 10C SUB allows it to be hidden from view and decoupled from the ceiling grid to greatly reduce rattling. The 10" (254 mm) low frequency driver has 800 watts continuous program handling capacity from a direct 8 ohm connection for deep and powerful bass. The 4th order bandpass design and rigid composite in-ceiling enclosure is an industry first that achieves low frequency extension down to 25 Hz with high transient response and low resonance. The SF 10C SUB can also be installed free standing with the optional SMK F SF 10C floor standing kit.
The SF 10C SUB extends the low frequency range of any ceiling or program speaker system down to 25 Hz. In a system that rolls off at 100 Hz, the SF 10C SUB can add two octaves of powerful bass without distortion. A subwoofer can cost effectively turn a thin sounding system into a good music playback system or a good music playback system into a great one.
Visually Discreet
There are some common challenges when finding physical space to design a subwoofer into a system without interfering with room aesthetics. The plenum rated SF 10C SUB solves these challenges by being suspended in the airspace above the ceiling grid, out of the way and out of sight. The included ceiling speaker grille and C-ring provide everything necessary for a finished installation that matches other ceiling speakers in the room.
Greatly Reduces Rattle
When any speaker physically touches another surface, sound vibrations are transferred. In the case of a subwoofer mounted directly to a ceiling grid, low frequency vibrations can cause components of that ceiling grid to rattle. By suspending the SF 10C SUB above the ceiling grid, the subwoofer and grid remain physically isolated from each other, making it impossible for vibrations from the sub to mechanically transfer to the grid.
The images at right illustrate how the SF 10C SUB port tube hovers above its speaker grille when the subwoofer is suspended in the plenum airspace. This unique design solves a common problem with discreet subwoofer placement.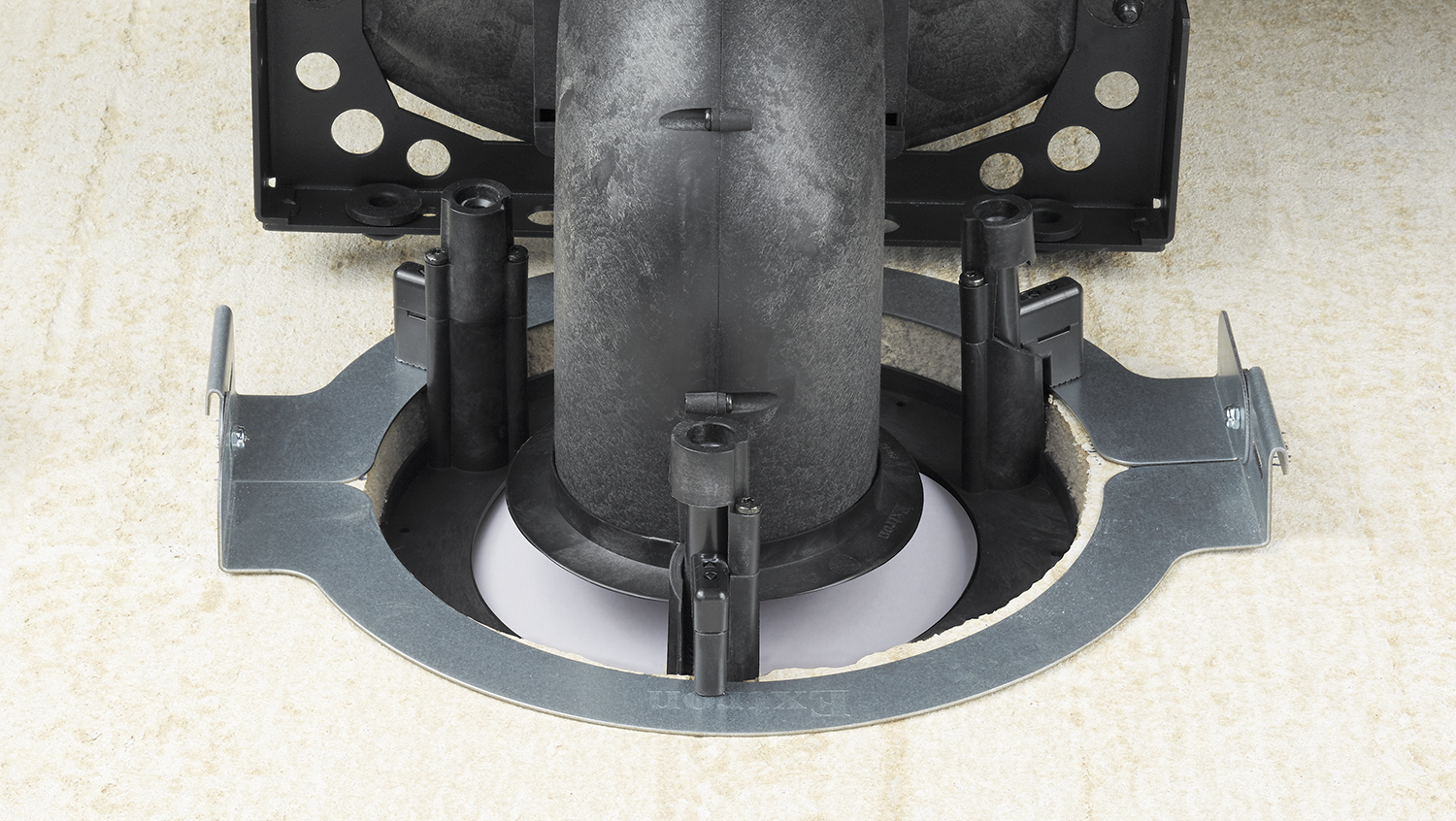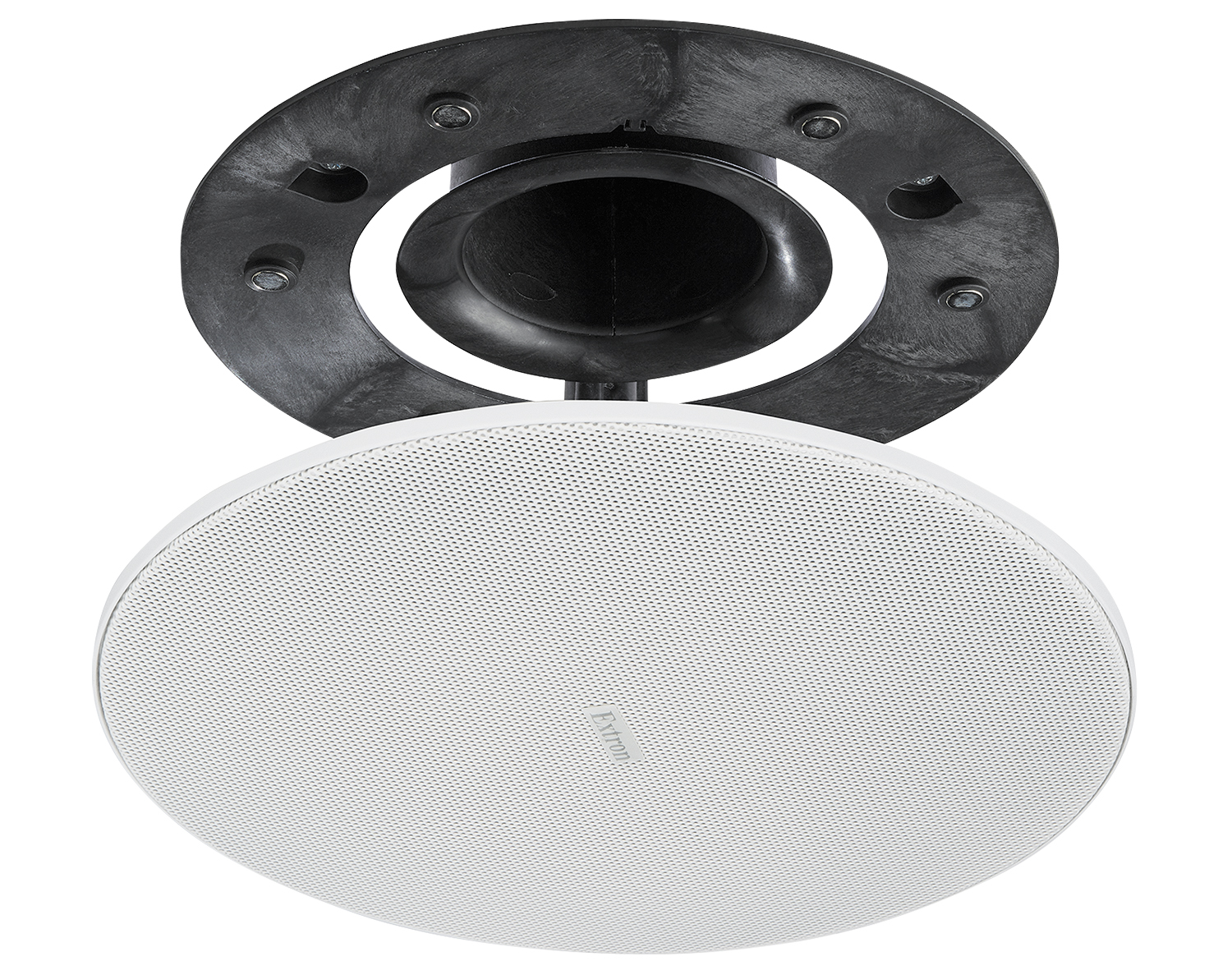 Linear Low Frequency Extension
More than half the notes below middle C on a piano fall below 100 Hz, all the way down to 27.5 Hz. The open E string on an electric bass vibrates close to 41 Hz. While harmonics of these notes can be heard on bandwidth limited playback systems, the fundamental notes are effectively lost. The LFE content from Blu-ray discs is typically 120 Hz and below. The addition of an SF 10C SUB to a speaker system, with its low frequency range of 25 Hz, provides the ability to reproduce these frequencies so the listener can experience the full impact of their content.
Pure Powerful Bass
Clean low frequencies, efficiently delivered, can significantly improve how content is received. The 10" driver of the SF 10C SUB, with its 800 watt program power handling, and 4th order bandpass enclosure design, provide room filling bass. The direct 8 ohm connection to a power amplifier avoids the low frequency rolloff and distortion associated with high impedance connections through a transformer. In a 70/100 volt system, the addition of an 8 ohm SF 10C SUB will eliminate the need to push lower frequencies through the ceiling speaker transformers, resulting in clean bass and overall higher sound quality.
Hardware Included
The SF 10C SUB comes with everything needed for a complete installation:
Set of four 15' (4.6 m) steel cables with locking adapters
Paintable ceiling speaker grille and C-ring disguise the subwoofer's outpus as an Extron ceiling speaker
Key Features
10" (254 mm) low frequency driver with a tuned port
UL 2043 rating for hidden placement in the plenum space
Frequency range: 25 Hz to 160 Hz
400 watts continuous pink noise
800 watts continuous program
8 ohm direct operation
Suspension mounting above the ceiling structure greatly reduces rattle
4th order bandpass design with a rigid composite enclosure
Includes installation and suspension hardware
Includes C-ring and paintable grille
Paintable enclosure
Integrated flame arrester for safety
5 year parts and labor warranty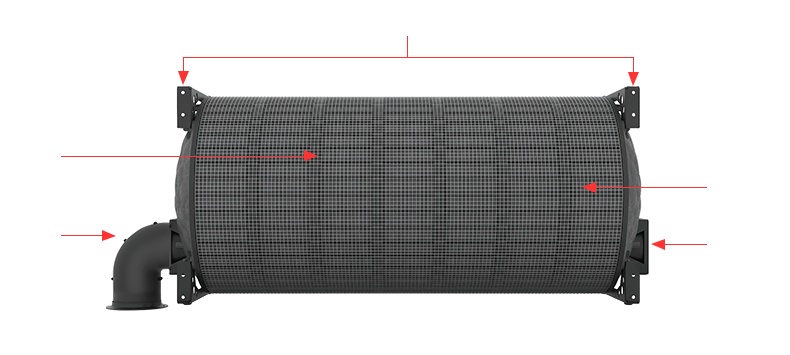 Mounting points

Suspended-by-wire mounting isolates the sub from the ceiling grid to avoid rattle. Can be mounted to threaded rod or the included steel aircraft cable.
Wire Mesh Flame Arrester

UL 2043 rated for plenum use

Tuned port

Low frequencies from the internal 10" driver are directed into the room via this port

Measurements

Measuring just 15 inches tall and weighing only 38 pounds, it easily fits in a typical plenum space above the ceiling

Analog inputs

Direct connection to an 8 ohm power amplifier