Selecting the Right Signal Processors
What are Signal Processors?

Signal processors alter and manipulate a signal in several ways. These can involve converting composite video to S-video, amplifying or peaking a signal, or completely reformatting a signal. Signal processors can improve the quality of an image, make routing and distribution easier, or allow images to be displayed in a way that would not normally be possible.
Extron offers a number of signal processing devices, each of which is tailored to specific application environments.
How are they used?
Each device in the Extron line of signal processors performs a very different function, from multi-video processing to video conversion to sync stabilizing.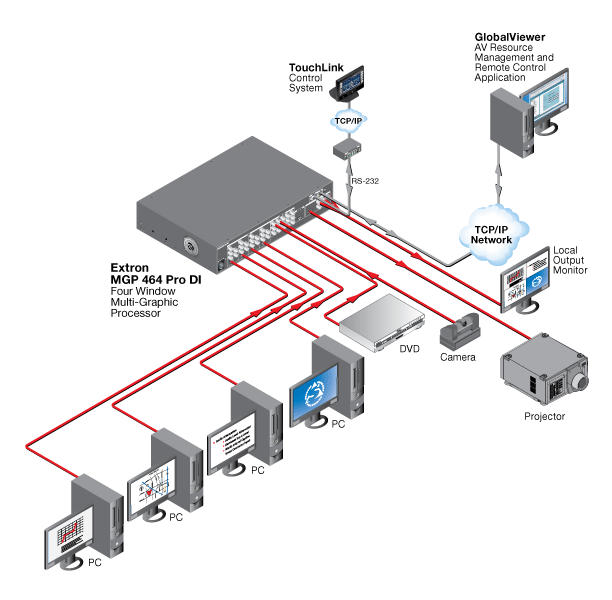 Categories
Every signal processing device manufactured by Extron performs a highly specific function. Extron currently offers over 20 signal processing products in the following categories:
Annotation Processor
Annotation processors facilitate the addition of graphical elements, such as shapes, lines, arrows, and text, over live video and high resolution computer graphics. The Extron Annotator offers live annotation capabilities for overlaying graphics and text within AV presentations, plus high performance scaling and switching to simplify integration and reduce overall system cost. View Annotation Processors
Universal Signal Processor
Universal signal processors combine high performance scaling, switching, scan conversion, standards conversion, and transcoding in one unit. They accept a wide range of video input signals and transcode them, or convert them up or down, into a number of different signal formats to meet the video signal requirements of virtually any system. View Universal Signal Processors
Multi-Window Signal Processors
Extron multi-window signal processors allow users to display multiple input sources, such as HDMI, 3G-SDI, HD-SDI, DVI, RGB, component, S-video, and composite video signals simultaneously on a single screen. Each window can be independently scaled, positioned, or overlapped. These products are useful for videoconferencing, command and control applications, distance learning, and more.
WindoWall® Pro is a scalable architecture for high performance multi-display videowalls up to 3x2 or larger. Full HDCP compliance at all HDMI inputs and outputs assures worry-free presentation of protected content. WindoWall Console software provides intuitive, straightforward setup and control of videowall systems. WindoWall Pro is an ideal choice for command and control centers, network operations centers, medical facilities, courtrooms, conference rooms and training facilities, retail environments, and other applications requiring highly reliable, multi-window videowall systemse. View Multi-Window Signal Processors
Graphic Still Store
Extron Graphic Still Store products are designed to play back company logos, digital photos, and slides. They are useful for displaying text or graphics as part of an AV presentation, masking PC changes between presentation sessions, or continuous slide show playback in kiosks or store signage. View Graphic Still Store products
Tuners
Extron tuners are used to demodulate RF signals from cable TV and large-area CCTV systems. Once demodulated, the signals are made available as video and stereo audio for integration into AV systems. View Tuners
Encoders, Decoders, and Transcoders
Extron encoders, decoders, and transcoders convert one signal type into another, minimizing routing and distribution complexity by changing all signals to the same signal format. View Encoders, Decoders, and Transcoders
Sync Processors
Extron sync processors perform specialized sync tasks to ensure that proper sync format and quality sync are provided to display devices to avoid potential display problems. Functions of sync processors include converting almost any type of sync input format to another sync output format, extracting sync from signals with embedded sync, and restoring sync timing to its original state for output on digital displays. View Sync Processors
Digital to Analog Converters
Extron digital to analog converters are used to integrate digital signals into existing analog environments. This allows a mixture of both analog and digital signals within an AV system. View Digital to Analog Converters