Extron IN1800 Series 4K/60 Presentation Switchers Win SCN 2018 Product of the Year Award
Public relations contact:
Joe da Silva, Vice President of Marketing
Extron
E-mail: pr@extron.com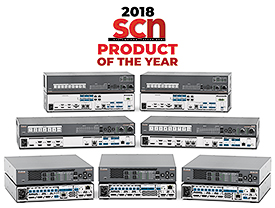 Anaheim, California (November 1, 2018) - Extron is pleased to announce that the IN1800 Series of seamless presentation switchers has been selected as a 2018 Product of the Year by Systems Contractor News. The awards showcase the new and innovative technologies that are redefining the AV industry. Combining cutting edge video and audio processing, DTP2 4K/60 signal extension, and networked control, the IN1800 Series sets a new benchmark standard for integrated scaling and switching. This powerful scaler product family includes nine models with four, six or eight inputs, dual video outputs, and a variety of integration features that equip them for a broad range of professional AV applications.
"We are delighted that the IN1800 Series has been recognized as an SCN 2018 Product of the Year," says Casey Hall, Vice President of Worldwide Sales and Marketing for Extron. "These presentation switchers offer advanced Extron technologies and unmatched capabilities for complete ProAV switching and processing."
With a maximum data rate of 18 Gbps, the IN1800 Series supports computer and video resolutions up to 4K/60 with full 4:4:4 chroma sampling. The Extron-exclusive Vector 4K scaling engine performs image conversion with 30-bit precision and maintains 4:4:4 chroma processing to ensure pristine image quality at the output. IN1800 Series models are compatible with all DTP products, enabling additional design options within the AV industry's most comprehensive integration platform.
For more information on the IN1800 Series, click here.