Extron Receives Three 2018 Stellar Service Awards from Systems Contractor News
Public relations contact:
Joe da Silva, Vice President of Marketing
Extron
E-mail: pr@extron.com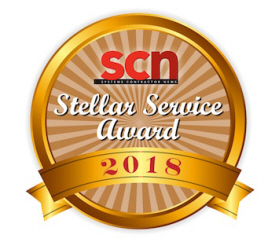 Anaheim, California (April 19, 2018) - Extron is delighted to have once again been recognized for excellence by readers of Systems Contractor News in the 2018 SCN Stellar Service Awards. Extron won the highest-level Platinum Award in the category The Dealer Portal You Want To Keep Going Back To (Best Website Dealer Portal), the Gold Award for Best Excuse to Leave the Office (Best In-House Training Program), and the Silver Award for The Number You Have on Autodial (Best Tech Support).
"Extron's commitment to excellence is reflected in our industry-leading service, support, and training, which deliver the tools our customers use for success," says Casey Hall, Vice President of Worldwide Sales and Marketing for Extron. "These awards reflect our ongoing commitment to provide the absolute best service and support, ensuring that our customers have a positive and professionally rewarding working experience with Extron."
Extron is a leading provider of training to the professional AV industry, delivering training to over 12,000 AV professionals every year. Extron Institute and certification programs enable AV professionals to build upon their understanding of existing technologies and to learn about emerging technologies such as 4K and beyond digital video, AV streaming, sound reinforcement, and system control. Courses are offered at Extron's more than 40 worldwide offices, clearly explaining how to refine digital AV system design by teaching concepts and techniques that employ the latest technologies. Visit Extron's website to view our Out of the Box instructional video series that demonstrate the speed and ease with which Extron products can be installed and configured, right Out of the Box.
For more information, visit our website at: www.extron.com.