Extron DTP, Collaboration, Wireless & Pro Series Control Systems Enhance Engagement at Schaeffler Asia Pacific
Public relations contact:
Joe da Silva, Director of Product Marketing
Extron
E-mail: pr@extron.com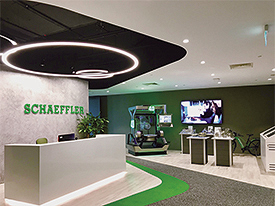 Anaheim, California (June 17, 2020) - The Schaeffler Group recently expanded their automotive supply operations across Asia Pacific, requiring a new, larger regional headquarters in Singapore. To actualize Schaeffler's vision of collaborative user-friendly meeting spaces, integration firm Vega Project Pte Ltd. Installed Extron DTP Systems, HC 404 Meeting Space Collaboration Systems, ShareLink Wireless Collaboration Gateways, and Pro Series control products for system operation. Within each of the eight board rooms, three auditoriums, and two think tanks, Vega deployed the same system design. An Extron HC 404 collaboration system feeds a wall-mounted flat panel display. An Extron ShareLink 250W EU gateway connected to the HC 404 receiver's HDMI input facilitates wireless communication. Meeting rooms and breakout spaces required more extensive signal routing capabilities. An Extron DTP CrossPoint 4K Series presentation matrix switcher provides AV and control signal switching and distribution. Each matrix switcher includes an integrated IP Link Pro control processor and the LinkLicense user interface upgrade, enabling use of an iPad for local system operation and remote monitoring and control. Implementation of Extron switching, collaboration, and control systems at Schaeffler Asia Pacific's new regional headquarters has proven to be the ideal solution for enhancing corporate relationships and fostering cooperation within the organization.
"Extron systems enable Schaeffler Asia Pacific to conduct meetings and townhall events with superior participant engagement," says Angeline Tan, Executive Director at Vega Project Pte. Ltd.
Schaeffler IT had final signoff of each design, as well as at the end of each integration phase and system commissioning. Careful product selection, device capabilities, and compatibility between system components allowed AV systems installation and commissioning to be completed within the tight, six months deadline. "Throughout the journey from design to implementation, Extron demonstrates their dedication to superior customer service based on factors like response time, logistics, and training support. Their website is also full of resources and easy to navigate; giving Extron an edge over the competition," states Charles Lee, IT Manager SEA at Schaeffler.
To read the full Schaeffler-Singapore story, click here.