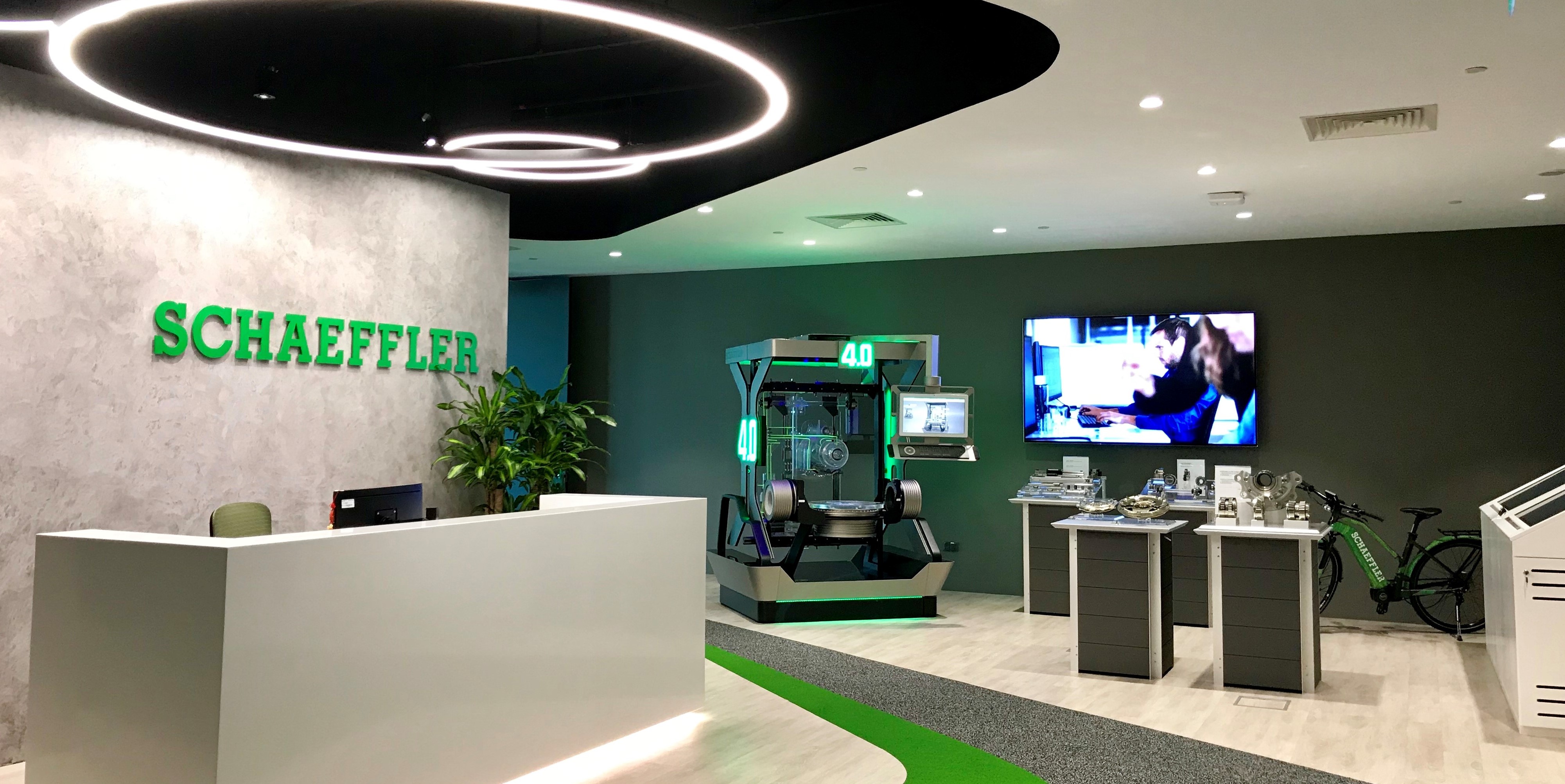 Extron DTP, Collaboration, Wireless & Pro Series Control Systems Enhance Engagement at Schaeffler Asia Pacific
Extron systems enable Schaeffler Asia Pacific to conduct meetings and townhall events with superior participant engagement.
Challenges
The Schaeffler Group is a leading global supplier to the automotive and industrial sectors. Expansion of company operations in the Asia Pacific region led to the need for a larger regional headquarters. In addition to more office space, the new Singapore facility provides 17 formal and casual meeting rooms designed to augment collaboration at all organizational levels.
System requirements included powerful yet efficient AV switching, AV connectivity for HDMI and VGA sources, and wireless communication that dovetailed with Schaeffler's standardized IT environment. System control had to be intuitive and allow remote access. StarLeaf ® Teamline 5250 and Skype ® -based videoconferencing capabilities were additional requirements within the 14‑seat and 20‑seat meeting rooms.
Extron Solutions Enable Interactivity at Every Level
Schaeffler brought integration firm Vega Project Pte Ltd. on board to actualize their vision of a collaborative workplace. The design team worked with Extron engineers to produce custom signal flow diagrams for the approved application, which included Extron DTP ® Systems , HC 404 Meeting Space Collaboration Systems, ShareLink™ Wireless Collaboration Gateways, and Pro Series control products for system operation.
Collaboration Spaces
Within each of the eight board rooms, three auditoriums, and two think tanks, Vega deployed the same system design. An Extron HC 404 collaboration system feeds a wall-mounted 49" or 55" flat panel display. The collaboration system's transmitter supports up to three sources, two HDMI and one VGA. It provides local switching among the connected devices and scales content to the display's native resolution. Analog signals are automatically converted to digital and switching priority is set to last-connected input for simplified operation. An Extron ShareLink 250W EU gateway connected to the HC 404 receiver's HDMI input facilitates wireless communication. Both units are mounted behind the display, maintaining room aesthetics.
Meeting Rooms
The 20-seat and 14-seat meeting rooms provide more extensive signal routing capabilities. The heart of the system is the Extron DTP CrossPoint 108 4K 10x8 presentation matrix switcher. Built‑in features such as Extron Vector™ 4K scaling technology and selectable seamless transitions help Schaeffler employees produce professional presentations for everything from interdepartmental collaborations to All Hands meetings. Patented Vector 4K technology that is a standard feature on the DTP CrossPoint 4K line scales video and images to the required resolutions. Another feature, logo keying, is useful when they host vendors and present to invited guests. These rooms share the matrix switcher, which is rack-mounted in a corner of the larger meeting space.
An Extron DTP T USW 333 three-input switcher provides automatic switching among devices connected at the conference table and the ShareLink wireless gateway that is connected to one of the switcher's HDMI inputs. Its integrated DTP transmitter enables signal extension to the DTP CrossPoint ® presentation matrix switcher. Extron DTP HDMI 4K 330 Tx transmitters extend signals from the videoconferencing cameras to matching receivers rack-mounted with the matrix switcher. Transmission distances over the shielded twisted pair cable are well within the 330‑foot (100‑meter) capability of these DTP extenders.
Audio from the Shure ® microphone systems is mixed with embedded and program audio before being sent to the sound system. To ensure clear speech and high-fidelity sound at each seat, an Extron XPA 2002‑100V audio amplifier assigned per room provides distribution to two or three pairs of Extron SoundField ® XD model SF 26CT ceiling speakers, depending on room size. While the speaker ships as a complete assembly, its back can and baffle can be separated to allow division of labor, with the general contractor roughing in the back can. Vega chose to perform this task as a single-trade installation.
Schaeffler and Vega agreed that use of an iPad ® would be the best solution for both local and remote system control. To accomplish this, an Extron IPCP Pro 555 IP Link ® Pro Control Processor was rack-mounted with the DTP CrossPoint presentation matrix switcher. The control processor includes LinkLicense ® , which makes it possible to use a laptop or mobile device to control AV system operations from within the room and provides the IT team with remote access to the system.
Breakout and Casual Gathering Areas
The breakout and social hubs installation is similar in design to the meeting rooms, providing DTP routing, a collaboration system, wireless communication, videoconferencing capabilities, a sound system, and use of an iPad for system control. The main display is a ceiling-mounted projector with an automated screen attached to the wall. An Extron DTP CrossPoint 84 4K IPCP MA 70 8x4 scaling presentation matrix switcher is rack mounted in a corner of the breakout space. It scales content to the projector's 1920x1200 native resolution, and relays on the integrated control processor facilitate operation of the projection screen.
Extron USB Extender Plus Series transmitters and receivers are used to extend signals from the area's PTZ cameras over the twisted pair cable infrastructure. An XPA 2002‑100V audio amplifier and ten SF 26CT ceiling speakers provide speech and musical sound reinforcement in these noisy environments.
To conserve rack space, the design team chose a DTP CrossPoint 4K model with an integrated IP Link Pro control processor. It also includes the LinkLicense user interface upgrade, enabling use of an iPad for local system operation and remote monitoring and control.
Results
Schaeffler IT had final signoff of each design, as well as at the end of each integration phase and system commissioning. Careful product selection, device capabilities, and compatibility between system components allowed AV systems installation and commissioning to be completed within the tight, six months deadline. Schaeffler Asia Pacific's new regional headquarters, with Extron switching, collaboration, and control systems, has proven to be ideal for enhancing corporate relationships and fostering cooperation within the organization. "Throughout the journey from design to implementation, Extron demonstrates their dedication to superior customer service based on factors like response time, logistics, and training support. Their website is also full of resources and easy to navigate; giving Extron an edge over the competition," states Charles Lee, IT Manager SEA at Schaeffler.