Extron Scalers and Signal Processors
Pro AV Scaling for Every Application
When it comes to delivering the best possible image quality, Extron has the proven technology and expertise to do it right. For over 20 years, Extron has been engineering and designing scaling and signal processing solutions for uncompromised image clarity and mission-critical performance, with an unwavering commitment to continually refining our technologies. When only the best will do for your system designs, choose Extron with confidence for all your scaling and signal processing requirements.
The Industry's Largest Offering of Scaling Products for Every Application
Extron offers an expansive family of scaling products with an unmatched breadth of features and input/output options. Select the ideal configuration for your application from an array of single-input scalers, multi-input scalers, cross conversion scalers, scaling presentation switchers, multi-window processors, videowall processors, and many other products.
Unparalleled Scaling Quality
To meet our exact specifications for the best possible performance, we engineer our scaling engines from the ground up. Our exclusive video processing algorithms deliver precise upscaling and downscaling for superior image detail and fidelity, and our highly advanced deinterlacing algorithms ensure premium image quality from any interlaced source content.
Extron scaler and signal processing products include a host of time-saving features to streamline integration and system operation, including EDID and HDCP management, virtually instantaneous source switching, automatic memory presets, and video test patterns.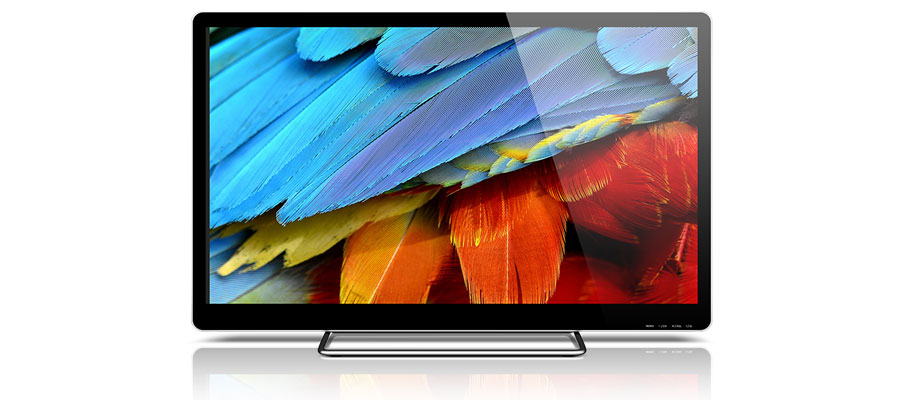 Advanced Scaling Algorithms
Extron R&D engineers determined that it was essential to develop our own image processing technologies in-house to our exact specifications for delivering the best possible scaling and deinterlacing quality, and avoid the compromises inherent in many third-party solutions. In doing so, we are able to maximize performance by adapting our algorithms to take full advantage of the latest high-speed data processing platforms. Extron continues to further develop and refine our image processing as new video formats, resolutions, and IC technologies emerge.
30-bit Deep Color Processing
Our video processing algorithms are executed at 30-bit color resolution to maximize grayscale and color accuracy for every pixel. 30-bit color precision provides very wide latitude when applying spatial and color interpolation as the source content is upscaled or downscaled. This allows full preservation of visual information conveyed within the original imagery.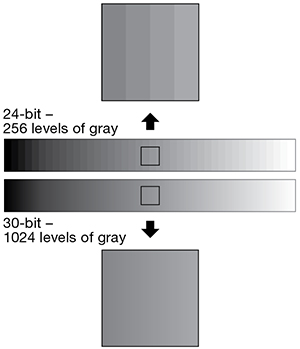 Advanced HDCP and EDID Management
Extron scalers and signal processors are equipped with Key Minder and EDID Minder, HDCP and EDID management features developed based on our R&D and insights acquired from listening to our customers. They ensure that sources and displays are easily integrated into a system with minimal effort, and results in fully dependable system operation with fast source switching.

Some sources will always deliver HDCP-encrypted video output, even with presentation slides, documents, and other non-protected content. Extron offers the option of de-authorizing HDCP at an input to ensure full compatibility with non-HDCP destinations such as video conferencing codecs.
Motion Adaptive Deinterlacing
Delivering the best possible progressive images from interlaced content often requires a tradeoff between latency and performance. Compromises in image quality are not uncommon with competitive processing platforms. Extron determined that the only way to achieve the best possible performance was to build a new deinterlacing algorithm from the ground up. We devised new methods of estimating motion at single-pixel precision, whereas competitive approaches employ pixel blocks. The end result is much greater accuracy in motion interpolation, which leads to much improved detail and fidelity in the reconstructed progressive video frames.

Automatic Film Cadence Detection
A particular challenge in video processing is delivering accurate reproduction of film content from interlaced video sources, especially in scenes with horizontal motion. At Extron, we extensively designed our 3:2 and 2:2 cadence detection and frame construction algorithms to ensure optimal detail and image fidelity. The result is highly accurate rendering of 24 fps film content, free of the compromises inherent in many third-party video processing solutions. Extron also supports 24:1 cadence detection in select scaling and signal processing products.
AFL™ - Accu-RATE Frame Lock
Some video source content may have originated from cameras and other equipment at 24 fps or other specific frame rate. In this case, presentation at the native frame rate can be critical to ensure the best possible image quality. Accu-RATE Frame Lock is an exclusive Extron video processing technology that analyzes the source signal, and then locks the output frame rate to match it, instead of converting to 50 or 60 Hz. This ensures pristine image presentation, free of motion-related artifacts that can result from frame rate conversion.

Aspect Ratio Control
A frequent challenge in AV presentations is addressing a mismatch in aspect ratio between a source and a display. This is a common occurrence in applications where participants bring their own devices into a presentation or collaboration system. Extron Aspect Ratio Control automatically detects the aspect ratio of an incoming source signal, and provides the options to deliver a consistent, full-screen image to the display, or to retain the original aspect ratio of the source content.

Auto-Image™ Setup
Extron Auto-Image Setup is a unique signal processing feature that simplifies the incorporation of new source devices into an AV system. When engaged, Auto-Image automatically analyzes the incoming source signal and adjusts the video processing accordingly to ensure proper image presentation. This feature is particularly convenient with legacy analog VGA sources that would otherwise require a calibration process to align the processing to the timing characteristics of the incoming signal. Auto-Image is ideal for presentation environments where different guest presenter laptops with various output resolutions will be connected.
Auto Image Memory
Extron scaling and signal processing products include user-definable memory presets to store image settings, as well as additional presets that are automatically populated based on the format of an incoming source signal. Whenever a picture setting is adjusted, the new value is automatically saved. Auto Image Memory greatly simplifies system operation by automatically recalling image parameters associated with an input format detected by a processor.
Internal Test Patterns
Proper setup of the display is a critical aspect of delivering optimal graphics and video on-screen. All Extron scaling and signal processing products are equipped with a series of video test patterns designed to help you get your display running to its full potential. These test patterns can also be useful in helping to identify an issue or validate performance capability. In addition, many Extron products include an audio pink noise generator which can be useful in setting up gain structure and room equalization for the sound system.

Extron S3 Support
Extron stands alone in the AV industry with our dedicated support services, from initial design to system commissioning and maintenance. Having engineered our technologies in-house, we are best prepared to help optimize scaling and signal processing solutions for your system designs.