Extron Announces Bigger Sizes for the Industry's First Adjustable Width Sound Bar
Public relations contact:
Joe da Silva, Vice President of Marketing
Extron
E-mail: pr@extron.com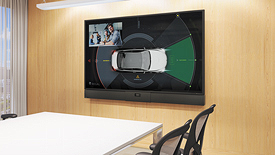 Anaheim, California (August 11, 2022) - Extron is pleased to introduce two new sizes to the popular SB 33 A Adjustable Width Sound Bar. These new sizes accommodate displays from 82" to 100" in width in addition to the existing sizes that support displays down to 46". The SB 33 A is a flexible solution for enhancing the audio experience in collaboration spaces. It can be customized onsite to precisely match the width of the display, offering high performance audio reinforcement that looks great in any space. Designed for the commercial market, the SB 33 A accommodates most USB webcams. Options are available to mount a PTZ camera or have no camera at all.
"As very large flat panel displays are getting increasingly popular, we needed to grow our flexible width sound bar," says Casey Hall, Vice President of Worldwide Sales and Marketing for Extron. "These two new sizes for the SB 33 A ensure that no matter your display size, we're able to accomodate it for that custom look that end users desire."
For more information on the SB 33 A, click here.