Extron Promotes Two New North America Sales Managers
Public relations contact:
Joe da Silva, Vice President of Marketing
Extron
E-mail: pr@extron.com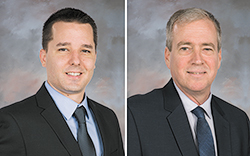 Anaheim, California (November 4, 2015) - Extron Electronics is pleased to announce the creation of two new North America Sales Manager positions for the Extron Sales team, and the promotion of two familiar faces to fulfill these new roles. Michael Bax will lead the sales teams in the West and Northeast US, as well as Canada. Mark Davis will be responsible for the US Midwest, South, and Mid-Atlantic regions. Both are eight year Extron veterans who previously held the position of Territory Sales Manager.
"Michael and Mark are well known and respected in our industry," says Casey Hall, Vice President of Sales and Marketing for Extron. "They both have the proven skills and expertise to deliver superior service and support to our customers." The promotion of these two tenured managers sets the stage for future growth in North America.
Visit our Web site at www.extron.com for more information.