Extron's New Room Scheduling Software Simplifies Room Booking, Speeds up Installation, and Adds Multi-Language Support
Public relations contact:
Joe da Silva, Vice President of Marketing
Extron
E-mail: pr@extron.com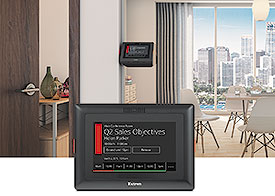 Anaheim, California (March 1, 2016) - Extron Electronics is pleased to announce the immediate availability of Room Agent version 1.1. Room Agent software turns TouchLink Pro touchpanels into full-featured room booking appliances that conveniently display a room's meeting information and availability. With Room Agent, the touchpanels require no programming, as they simply become a client of the existing Microsoft Exchange server. The latest version of Room Agent software offers new features including a new Scheduling Activity File for capturing events from each meeting room for convenient analysis, a Check-In button that confirms attendance for the scheduled meeting, support for 23 languages, and more. With Room Agent, booking a room from the touchpanel is as easy as tapping the "Reserve" button. The intuitive interface also provides at-a-glance room availability and a timeline view of the room's status for the rest of the day. In addition to the customizable touchpanel interface, bright LEDs within the bezel provide at-a-glance room availability status even from down the hall.
"Since its launch last spring, Extron Room Scheduling has simplified the room booking experience, worldwide," says Casey Hall, Vice President of Sales and Marketing for Extron. "This new version of Room Agent makes things even easier by adding more tools, speeding up installation, and enhancing language support."
Room Agent makes setting up TouchLink Pro touchpanels a snap. Simply connect the touchpanel to your computer, open the software, fill in the required fields that compose the user interface, and you're done. Customization options allow fields to be shown or hidden, depending on user preference. Multiple mounting options are available, including on-wall, in-wall, as well as secure mounting to almost any flat surface, including glass or granite.
To watch a product introduction video, please visit www.extron.com/roomschedulingvideo
For more information on Room Scheduling, please visit: www.extron.com/roomschedulingpr