Extron Room Scheduling Now Available
Public relations contact:
Joe da Silva, Vice President of Marketing
Extron
E-mail: pr@extron.com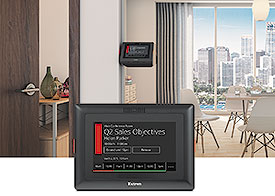 Anaheim, California (April 27, 2015) - Extron Electronics is pleased to announce the immediate availability of Extron Room Scheduling. Extron has simplified the room booking experience by pairing standard TouchLink Pro touchpanels with Microsoft Exchange to create a complete, easy-to-use solution. While competitive devices rely on additional scheduling software or external processors, TouchLink Pro touchpanels only require free Room Agent software and Exchange to deliver a convenient stand-alone room booking solutions for any size facility. Users can reserve rooms from any Exchange-connected device, including their mobile devices, or from the touchpanel itself. Since Extron Room Scheduling uses popular 5" and 7" TouchLink Pro touchpanels, multiple mounting options are available, including on-wall, in-wall, as well as secure mounting to almost any flat surface, including glass or granite with the TLP Pro 520M.
"Room scheduling further enhances our TouchLink Pro touchpanels by transforming them into convenient room booking appliances," says Casey Hall, Vice President of Sales and Marketing for Extron. "Deploying room scheduling touchpanels is easy. Once you've modified the interface to your liking and loaded it to the panel, users can simply tap the screen to book a room."
Extron TLP Pro 520M, TLP Pro 720M, and TLP Pro 720T TouchLink Pro touchpanels require no programming, as they simply operate as a client of Microsoft Exchange. Booking a room from the touchpanel is as easy as tapping the "Reserve" button for the time you want. The intuitive interface clearly displays room availability and a timeline view of the room's occupancy status for the rest of the day. In addition to the customizable touchpanel interface, bright green and red LEDs within the bezel make it easy to see if a room is occupied or available, even from down the hall.
To watch a product introduction video, please visit: www.extron.com/roomschedulingvideo For more information on Room Scheduling, please visit: www.extron.com/roomschedulingpr