Extron Introduces New Cable Retraction System for Cable Cubby® Enclosures
Public relations contact:
Joe da Silva, Vice President of Marketing
Extron
E-mail: pr@extron.com
Anaheim, California (June 17, 2009)
- Extron is pleased to introduce the Retractor, a unique, patent-pending cable retraction and management system designed to work in conjunction with new or previously installed Cable Cubby access enclosures. The Retractor provides a discreet, convenient solution for accessing AV cable connections and then storing them effectively. Users pull the end of the cable from the system, which extends up to three feet (90 cm). When pulled to the desired length, the cable is held securely in place. After use, the cable retracts smoothly and effortlessly with the push of a button. The Retractor is available in versions to support most AV and data signal types including VGA, Network, PC Audio, USB, DVI, or HDMI.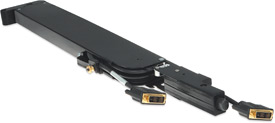 "AV integrators and installers have long asked for a simple, robust, and cost-effective cable retraction system to use with our Cable Cubby enclosures," says Lee Dodson, Vice President of Marketing for Extron." The Retractor provides a quick, intuitive solution that's easy to install and designed for the kind of demanding day in, day out use that's common in schools, businesses, and other high-usage applications."
Each Retractor works in tandem with the Cable Cubby 300, 600, and 800 models, as well as the TouchLink™ 3.5" Cable Cubby Touchpanel. Cable Cubby access enclosures are furniture-mountable architectural solutions that store cable out of sight while remaining connected to the AV system, offering a discreet way to access cables and connection points as they are needed. Up to three Retractor modules can be installed side by side within the Cable Cubby.