Extron Retractor Series/2 Now with DC Power for Most Laptop Manufacturers
Public relations contact:
Joe da Silva, Vice President of Marketing
Extron
E-mail: pr@extron.com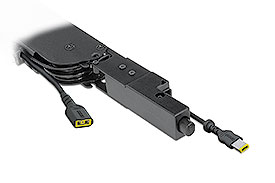 Anaheim, California (March 22, 2016) - Extron Electronics is pleased to announce the immediate availability of Retractor Series/2 Lenovo DC and Retractor Series/2 XL Lenovo DC cable retraction systems, which supply DC power to Lenovo laptop computers. These patented, variable-speed cable retraction systems are designed to work with AVEdge 100 and Cable Cubby Series/2 cable access enclosures, and the TMK 120 R Table Mount Kit. Retractor Series/2 cables extend up to three feet (90 cm), and Retractor Series/2 XL – Extended Length models support cable extension up to five feet (152 cm).
"With the addition Lenovo DC cable retraction modules, Extron now has the most complete line of laptop power offerings, including support for Lenovo, Dell, Hewlett Packard, Compaq, and other PCs," says Casey Hall, Vice President of Sales and Marketing for Extron. "We are consistently seeking to expand our product line to provide the most comprehensive solutions for our customers, and making Extron products that work in every AV integration environment."
All Extron Retractor Series/2 cable retraction modules are engineered for long life and reliability, and tested to exceed 7,500 cable extension and retraction cycles. The robust mechanism is designed to withstand frequent use in schools, libraries, conference rooms, and other high-utilization environments.
For more information on Retractor Series/2 Cable Retraction Modules, please visit: www.extron.com/retractorlenovopr