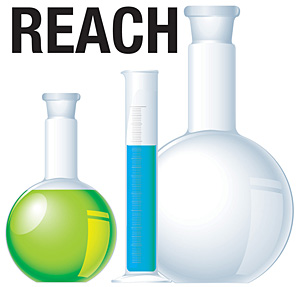 REACH – Registration, Evaluation, Authorization and restriction of Chemicals – is a European Union Regulation that went into effect June 1st 2007. The REACH Regulation, officially known as Regulation 1907/2006, streamlines the former body of laws within the EU that covered chemical compounds by forming a single agency, the ECHA – European Chemical Agency to manage a central database of chemical substances, ensure consistent implementation of regulations and provide assessment of chemical registrations. Manufacturers and importers of chemical substances are required provide information as to the nature of their chemical compounds and safe handling methods. The aim of REACH is to protect human life from harmful chemical interaction and to improve the competitiveness of the European chemical industry.
Extron is committed to reduce use of SVHC - Substances of Very High Concern as defined by REACH and altogether eliminate the use of known hazardous substances as defined by RoHS in compliance with European Union Directives and Regulations. The majority of SVHC compounds are not used in Extron products. Extron will continue to monitor our product material content for such substances and will strive to identify and replace any toxic materials that may be used.
Visit the REACH Web site here.