Extron Founder Honored with Simultaneous Induction into rAVe and SCN Halls of Fame
Public relations contact:
Joe da Silva, Vice President of Marketing
Extron
E-mail: pr@extron.com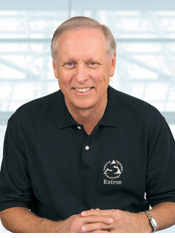 Anaheim, California (January 15, 2015) - Extron Electronics president and founder, Andrew Edwards, has been simultaneously named to the inaugural class of the rAVe Publications AV Hall of Fame and the SCN Inventors Hall of Fame. The rAVe AV Hall of Fame award recognizes Edwards as an AV industry pioneer whose vision and innovation have created enormous opportunities for countless AV industry professionals and customers. The SCN Inventors Hall of Fame honors Edwards for having the vision to launch a manufacturing enterprise that has shaped the AV industry.
"Andrew Edwards basically invented the computer interface and has since led the development of thousands of innovative AV solutions," says Gary Kayye, Founder and CEO of rAVe Publications. "Through his leadership and commitment to excellence, Extron has become one of the leading providers of high quality products, training, and customer support to the professional AV industry."
When he launched Extron, Edwards implemented S3 – Service, Support, Solutions, a customer support philosophy that is second to none in the AV industry. Using a "listen first, then respond" approach, Edwards has empowered the Extron staff to take the time to fully understand the customer's needs and system goals before developing or recommending a system solution. Edwards' dedication to customers through the development of comprehensive training, industry-leading support, and innovative products is an underlying force that has strengthened the AV industry, and has made possible a higher quality of presentation technology.