Extron Wins Three Industry Awards
Public relations contact:
Joe da Silva, Vice President of Marketing
Extron
E-mail: pr@extron.com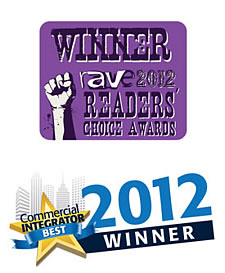 Anaheim, California (June 27, 2012) - Extron Electronics is proud to announce that it has won a rAVe Readers' Choice Award and two Commercial Integrator BEST Awards.
Extron won the rAVe Readers' Choice Award for Best Manufacturer-Based Training Program for its training and educational programs designed to help customers around the world keep pace with new technologies and product developments. These programs include regional instructor-led training and live demonstrations; online training; certification; continuing education; and articles, white papers, and videos. rAVe Readers' Choice Award winners were selected based on 19,000 votes.
Extron's Half Rack Shelf System won a Commercial Integrator BEST Award in the category of Cabinets, Furniture, Racks, Mounts & Cases, and XTP Systems won in the Audio Components & Processors category.
The Extron Half Rack Shelf System of rack shelves and related accessories is designed for applications utilizing one-half rack width and smaller products. The compact, 1U half-rack width size allows the mounting of half-, quarter-, and eighth rack products in space-constrained furniture such as lecterns and cabinets that are not wide enough to support the mounting of full width, 19" rack shelves or electronics.
Extron XTP Systems provide a completely integrated switching and distribution solution for multiple digital and analog formats. They support local connectivity as well as extended transmission capability for sending high resolution video, audio, RS-232, and Ethernet up to 330 feet (100 m) over a single CAT 5-type cable. XTP Systems are HDCP compliant and deliver ultra-fast, highly reliable digital switching with Extron-exclusive SpeedSwitch® technology.