Extron Receives Three 2018 rAVe Readers' Choice Awards
Public relations contact:
Joe da Silva, Vice President of Marketing
Extron
E-mail: pr@extron.com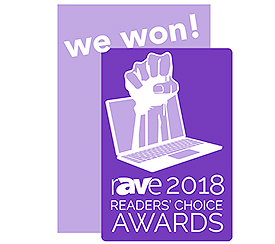 Anaheim, California (June 20, 2018) - Extron is proud to announce that it was honored with three rAVe Readers' Choice Awards for 2018. Extron received awards for Favorite Manufacturer-Based Sales Support Team, Favorite Control/Signal Processing Manufacturer, and Favorite AV Website. rAVe Reader's Choice Awards are voted on exclusively by the AV community. This year there were over 92,000 voters for the final awards.
"We are extremely pleased to be recognized by the AV community for our industry-leading website, service and support, as well as for our innovative control and signal processing solutions," says Casey Hall, Vice President of Worldwide Sales and Marketing for Extron. "These awards reflect our ongoing commitment to excellence, delivering reliable, powerful AV solutions backed up with superlative service and support."
Extron products switch, distribute, stream, and control AV signals from any source to any destination while maintaining signal integrity. They are carefully engineered to provide best-in-class performance, high energy efficiency and exceptional reliability. Our products play a vital role in creating effective information presentation systems for diverse environments ranging from classrooms, huddle spaces, and university lecture halls to simulation facilities, large-scale entertainment venues, and command-and-control centers. With over 5,000 product solutions, the breadth of the Extron product line provides system designers flexibility to select the optimal solution for each application.
For more information about Extron, click here.