Extron DTP 4K Series and Technical Support Voted Best in Industry
Public relations contact:
Joe da Silva, Vice President of Marketing
Extron
E-mail: pr@extron.com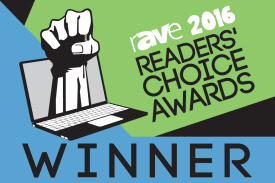 Anaheim, California (June 13, 2016) - Extron Electronics is excited to announce that it has been honored to receive two rAVe Readers' Choice Awards for 2016. The readers of rAVe selected the DTP 4K Series family of scaling presentation matrix switchers and multi-format extenders as their Favorite New Product and Extron was also voted Favorite Manufacturer Technical Support Team.
"The AV industry is constantly evolving, and new signal types and formats need to work with an exponential variety of devices in existing and new installations," says Casey Hall, Vice President of Sales and Marketing for Extron. "It is gratifying to know that the rAVe readers declared with their votes that they recognize Exton's hard work to design products such as the DTP 4K Series and provide industry-leading support to our customers."
The Extron DTP 4K Series is the AV industry's most comprehensive integration platform for small to mid-sized AV systems to support video resolutions up to 4K. The product family includes numerous extender models in a wide variety of form factors and video formats, plus a broad offering of distribution amplifiers, switchers, and matrix switchers with essential AV signal processing and control features. The Extron DTP 4K Series delivers all of the technologically advanced capabilities required in an AV system, greatly simplifying system design and integration and dramatically reducing total cost of ownership.
To ensure AV professionals understand how to select and best utilize current and emerging technologies such as with the DTP 4K Series, Extron remains focused on providing uncompromising service, support, and solutions - S3. Extron's highly trained engineers and technicians help to simplify the task of system integration, from product selection and troubleshooting to system design advice. In addition to being just a phone call or text away from expert assistance, our customers can prepare for that next technology challenge or career jump through the award-winning training program, Extron Institute.
Visit our Web site at www.extron.com for more information.