Quantum Ultra II
Next-Generation 8K Videowall Processing with Audio Support
Videowall Processing Leaps Forward with Audio Switching and Expanded 4K/60 Throughput
Quantum® Ultra II is the next generation of Extron videowall processors, providing advanced, future-ready connectivity and throughput capabilities. The expanded HyperLane® video bus delivers unmatched real‑time performance with a throughput of up to 500 Gbps. The 18 Gbps HDMI connectors on the 4K input and output cards support resolutions up to 4K/60 at 4:4:4 with full HDCP 2.3 compliance, and 8K/60 sources can be accommodated as a quad-path signal. Embedded HDMI audio from any source can be routed to each active canvas. The processor can support multiple videowalls with mixed resolutions and screen orientations. Features such as portrait and landscape output support, output overlap, and custom output resolutions ensure compatibility with most displays. RS‑232, USB, and Ethernet interfaces provide direct connection to control systems.
Quantum Ultra II utilizes a modular architecture consisting of a card frame, input cards, and output cards to meet the needs of any application. The Quantum Ultra II 610 is a 6U, 10‑slot card frame that supports any combination of input and output cards for I/O sizes up to 36x4, 4x36, or anything in between. The Quantum Ultra II 305 is a 3U, 5‑slot card frame for small to medium-sized videowalls. The Quantum IN4HDMI 4K PLUS card supports HDMI resolutions up to 8K/60. It accepts four 4K/60 HDMI signals or a single quad-path 8K/60 signal. The Quantum IN4HDMI accepts one 4K/60 HDMI, two 4K/30, or four 2K signals. The Quantum IN SMD 100 decodes up to four 1080p/60, eight 1080p/30, or 16 SD resolution streams and is compatible with MPEG-2, Motion JPEG, and H.264 streams. The OUT4HDMI 4K PLUS output card delivers four HDMI signals up to 4K/60. OUT4HDMI and OUT4DTP output cards deliver from one to four outputs at resolutions from 1024x768 to 4K/60. The OUT4DTP provides selectable DTP, XTP, and HDBaseT twisted pair output modes, extending signals up to 330 feet (100 meters).
HyperLane Video Bus
Quantum Ultra II features a future-ready high-speed video bus that incorporates Extron HyperLane technology, which delivers real-time performance unattainable by other videowall processors.
The unparalleled HyperLane video bus has a maximum throughput of 500 Gbps, providing each HDMI connection with full compatibility with video resolutions up to 4K/60 with 4:4:4 color sampling. It has the capacity to simultaneously carry more than twenty 4K/60 4:4:4 sources. It also possesses the bandwidth required to support evolving signal formats, such as 8K, along with the higher resolutions, high dynamic range - HDR, greater color depth, and expanded color gamut these signals will provide.
The HyperLane bus serves one purpose - transporting video data between input and output cards. The dedicated nature of the bus means performance is completely consistent, predictable, and unaffected by any other element of the system. This provides smooth presentation of sources, with no variance in the frame rate of the displayed source layout.
HyperLane Video Bus

Mission-Critical Operation
Quantum Ultra II was engineered for continuous operation in mission-critical environments. Redundant, hot swappable Everlast power supplies - designed and Engineered by Extron - are a standard feature on the Quantum Ultra II 610 card frame and deliver uninterrupted 24/7 performance. The Quantum Ultra II 305 card frame utilizes a single internal Everlast power supply.
Watch video
Two AC Power Inputs
For added power reliability, some 24-hour environments require two separate AC power sources, one as the primary source and the second for redundancy. The Quantum Ultra II 610 provides two AC power inputs for continuous connection to both power sources.
Solid State OS Drive
A solid-state drive provides security and stability for Quantum Ultra's operating system. Solid state drives are impervious to failure modes common with mechanical drives, such as failed bearings, motors, and read/write heads. An additional benefit of the solid-state drive is fast system startup, taking less than 90 seconds to power up and display video on all configured outputs.
Unsolicited Failure Notifications
System administrators can be notified in the event of a critical component failure such as a power supply or fan, or when recommended operating temperature is exceeded.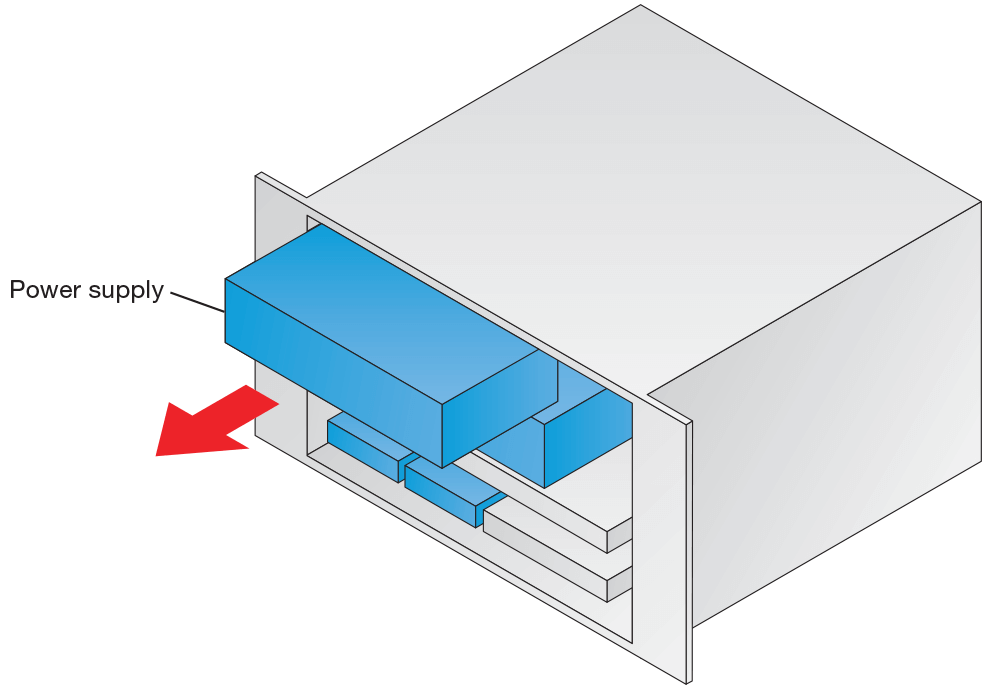 The Quantum Ultra II 610 features dual redundant, hot-swappable Extron Everlast power supplies
Security

Write Protected OS
Quantum Ultra II's operating system is write protected, preventing any modifications to the file system without administrator password verification.
Encrypted Connection
SSL communication protocol provides an encrypted connection between the Videowall Configuration Software and Quantum Ultra II for system setup and firmware updates. Secure Shell - SSH communication between external control systems and Quantum Ultra II ensures a secure connection for remote SIS commands.
Physical and IP Port Disabling
The physical USB, RS-232, and Ethernet ports can be enabled or disabled independently to restrict access to Quantum Ultra II. IP and UDP ports can also be selectively enabled or disabled, locking out access to Telnet, SSH, HTTP, or other protocols.
Event Log
A system event log documents software, hardware, and connection-related events on the Quantum Ultra II. It is maintained as a locally-stored file with a user-definable maximum size, and can be downloaded directly from the processor.
Removable Storage Disks
The operating system and data storage drives are easily removed from the Quantum Ultra II 610 card frame, accommodating security management policies that mandate specialized storage or classification management procedures.
Signed Firmware
Firmware updates are digitally signed by Extron, ensuring the file has not been tampered with. All firmware updates require Administrator login, and are transferred across an encrypted connection.
User-Definable OS Password
Access to the Quantum Ultra II operating system is protected with a user-definable password, allowing it to conform to an organization's security and scheduling policies.
Output Features
Output Rotation
Quantum Ultra II's output signals can be rotated 90‑degrees clockwise or counterclockwise, accommodating displays arranged in both portrait and landscape orientations.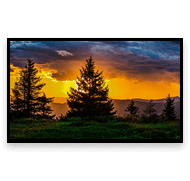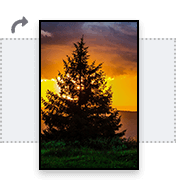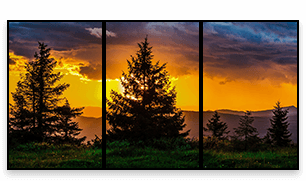 Output Overlap
Output overlap provides redundant image data for edge-blended projection applications. Both horizontal and vertical overlaps can be applied simultaneously. Output overlap also simplifies operation with large direct-view LED systems, and other specialized displays.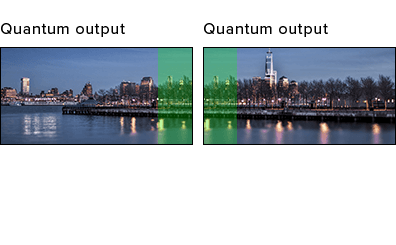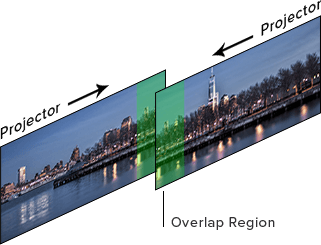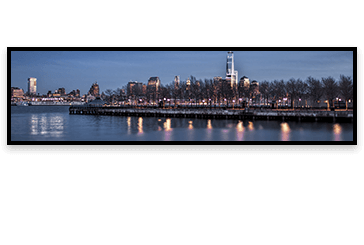 Multiple Simultaneous Resolutions
1080P, 4K, and other display types can be driven simultaneously at their native resolution from a single Quantum Ultra II processor.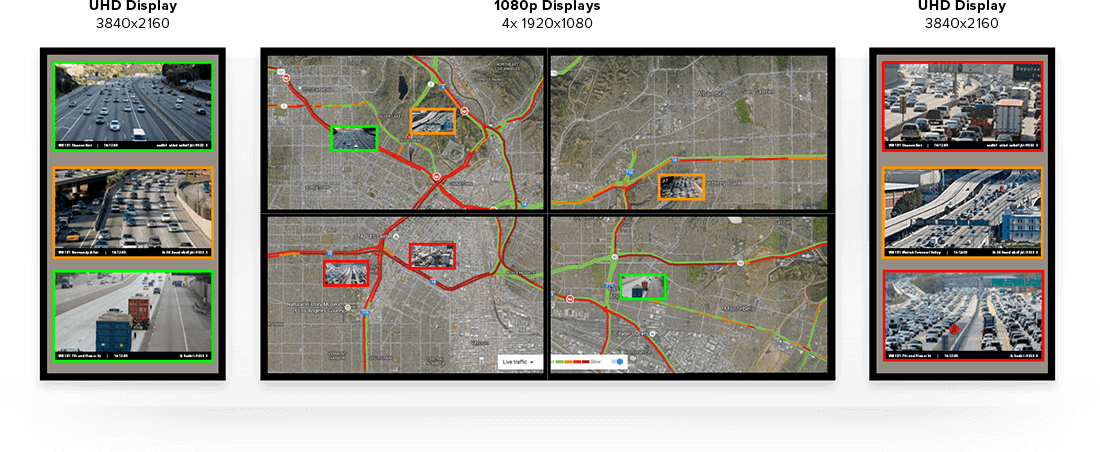 Bezel Compensation
Adjustable horizontal and vertical compensation extends the displayed image "behind" screen bezels, accurately presenting sources which span multiple displays.
When projectors and projection cubes are stacked next to each other, there is no appreciable image-to-image gap between the displays. However, flat-panel displays typically have a wide physical bezel around the active picture area. The active picture area stops at the inner edge of the bezel. Therefore, when flat-panel displays are stacked together to form a tiled display, there can be significant screen-to-screen gaps across panels.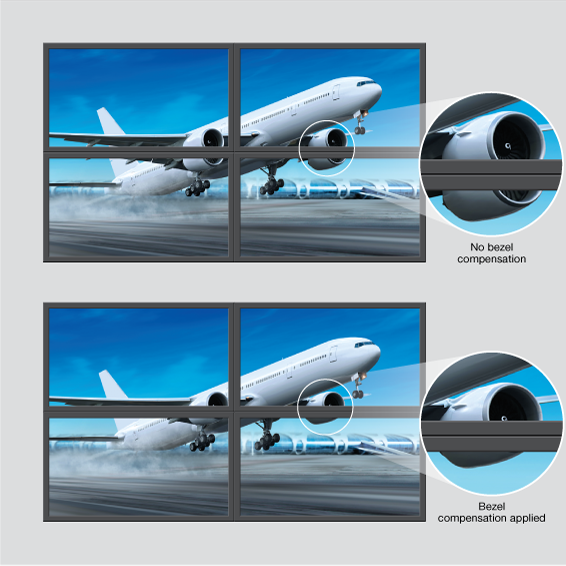 Custom Output Resolutions
Quantum Ultra II supports custom output resolutions, maximizing compatibility with evolving display technology, non-standard displays, and LED systems. This also eliminates the need for the display to perform internal scaling, increasing the quality of displayed content.

Multiple Wall Control
A single Quantum Ultra II processor can simultaneously drive multiple videowalls, and additional card frames can be added for very large systems. Up to 10 videowalls can be independently controlled, each with varying screen orientation, overlap, bezel compensation, and output resolutions.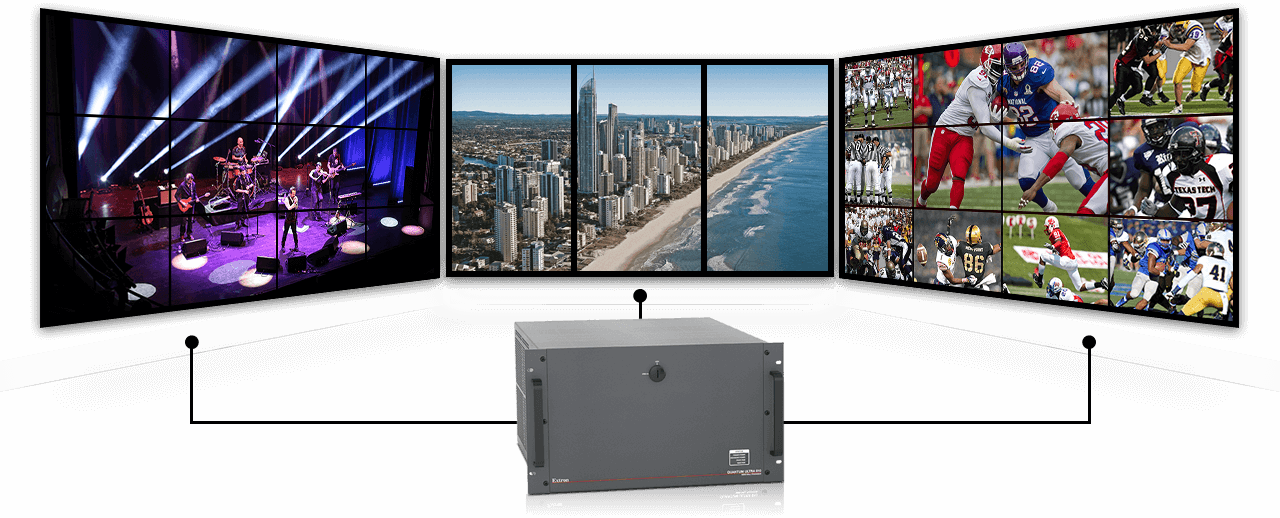 Output Extension
The Quantum OUT4DTP output card provides selectable DTP, XTP, and HDBaseT twisted pair output modes, extending signals up to 330 feet (100 meters). Power insertion on the OUT4DTP enables remote powering of DTP receivers. Bidirectional RS‑232 and IR pass-through provides control of AV devices by transmitting data alongside the video signal. RS‑232 can also be inserted from the Quantum Ultra II Ethernet control port, allowing control of devices without the need for RS‑232 ports on the control processor.

Input Features
4K/60 on a Single Connection
Quantum Ultra II offers the convenience of managing 4K/60 video on a single HDMI connection, for flexibility when working with 4K sources, peripherals, and displays. 8K/60 sources can be accepted as a quad-path signal.

Streamed Video Decoding
The Quantum IN SMD 100 input card decodes up to four 1080p/60, eight 1080p/30, or 16 SD resolution streams from IP cameras, Extron streaming media encoders, and other H.264 encoders. It supports the video sections of ONVIF Profile S and is compatible with MPEG-2, Motion JPEG, and H.264 streams.

VNC Support
Quantum Ultra II can display streamed content sourced from PCs running a Virtual Network Computing - VNC server application. Multiple VNC streams can be presented simultaneously on the videowall for collaborative sharing from local or remote PCs.

Window Borders and Text
Custom color borders with rounded corners, drop shadows, flashing, and transparency can be applied to any window type. Border titles and overlay text can be applied to a window and dynamically updated from the control system to indicate a change in the source's name, type, status, or classification level.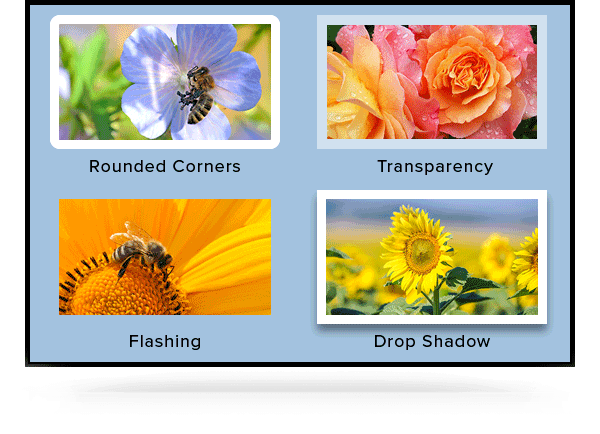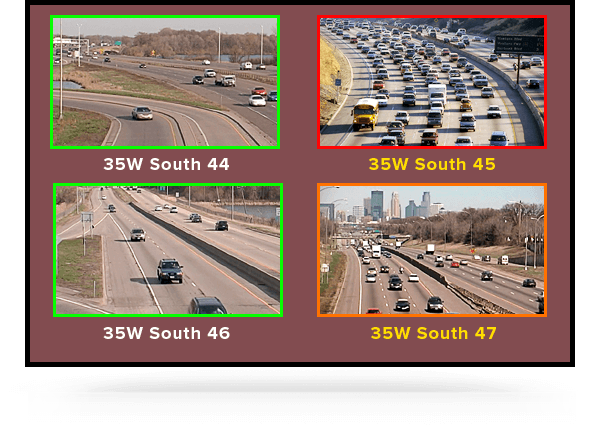 System Clocks
Internally generated clocks can be presented in a variety of time and date formats, in multiple time zones, without the cost and space physical clocks require. Flexible size and color options present clock data clearly and effectively, and clock time can be synchronized to network time protocol - NTP.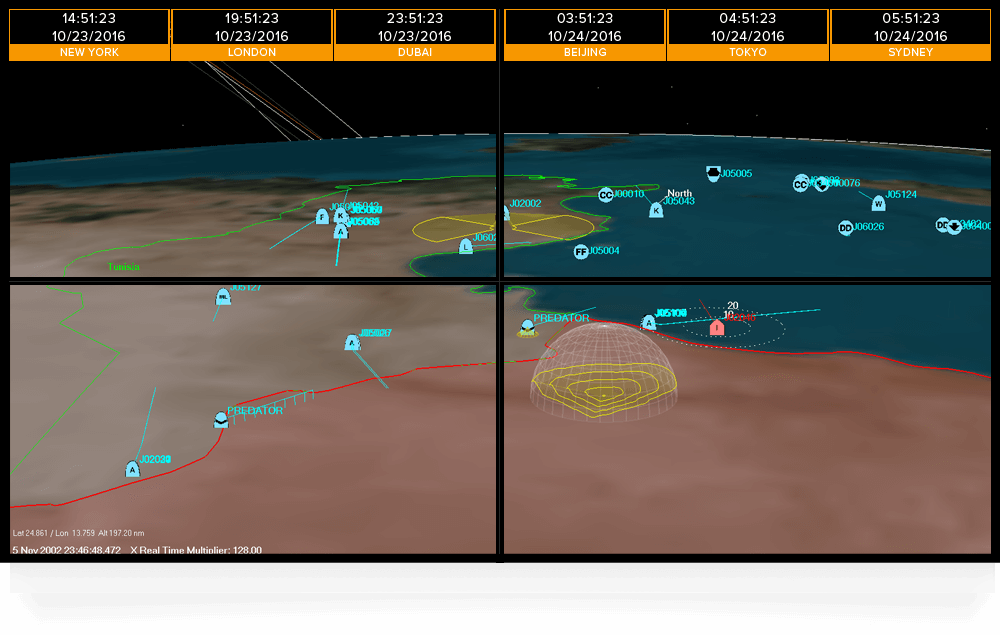 Locally-Stored Images
Image file types, including JPEG, PNG, and bitmaps can be uploaded to the Quantum Ultra II for use as backgrounds or displayed as source windows. Image transparency is supported via Alpha channel, level keying, and color keying.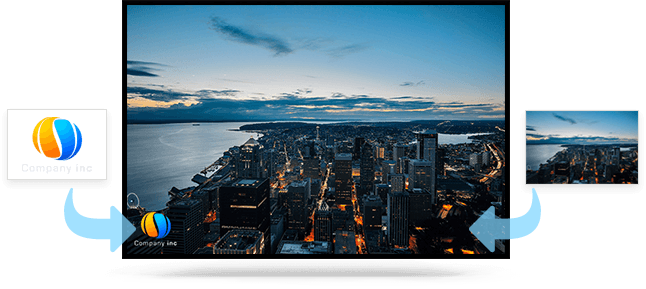 Processing Features
Unparalleled Scaling Quality
Some processors throw away pixels when downscaling. This results in lost information, and creates an inaccurate representation of the original source. This is especially detrimental in mission critical environments, where the missing information can negatively impact crucial decision making. Quantum Ultra II utilizes the Vector 4K scaling engine, which produces sharp, accurate output and preserves single-pixel detail that other scaling methods lack. Critical detail is preserved, even when presenting a source at a fraction of the original resolution.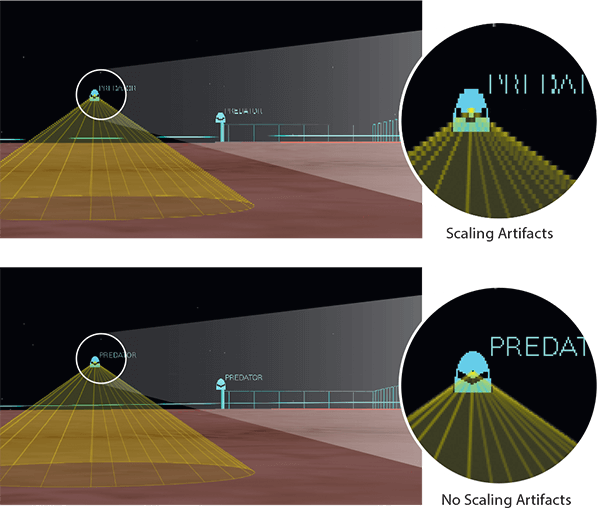 4:4:4 Signal Processing
Quantum Ultra II processing is always performed in the RGB domain with full 4:4:4 color sampling, which is critical for processing fine image details such as single pixel, colored lines and text in computer content.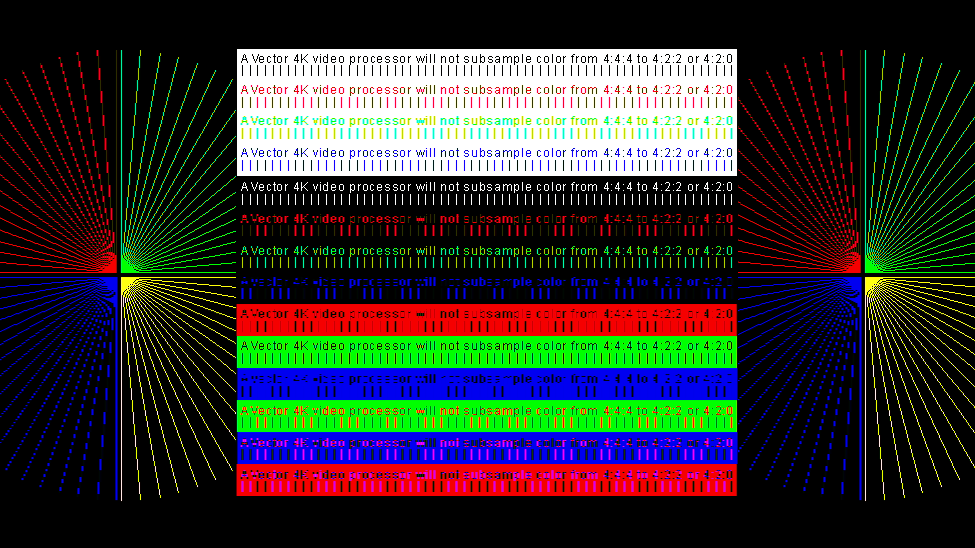 Direct, Full-Featured Control
Locally-stored configuration files allows direct connection via RS‑232, USB or Ethernet between the control system and Quantum Ultra II. A full-featured control protocol allows access to preset selection, window source selection, window size, position, and visibility, window border appearance, window labeling, and many more presentation options.

Windowing
Quantum Ultra II offers extensive windowing capabilities, with the ability to display up to 64 video, image, and clock windows from each output card. Restriction-free window placement allows side-by-side, overlap, and picture in picture positioning of images.

Audio Support
Quantum Ultra II supports HDMI embedded audio routing when configured with IN4HDMI 4K PLUS and OUT4HDMI 4K PLUS cards. HDMI embedded audio accepted by the IN4HDMI 4K PLUS input card is extracted and embedded onto the HDMI signal for distribution through the OUT4HDMI 4K PLUS output card. LPCM stereo as well as LPCM, Dolby®, and DTS® multi-channel surround sound formats are supported. For each canvas, an independent audio source can be selected from any input.
Expansion Cards
Quantum Expansion IN and Quantum Expansion OUT cards link multiple Quantum Ultra videowall processors together, simplifying the design, integration, and operation of large videowalls. They extend the high-speed HyperLane bus between the processors to create a common, shared bus, making each input source available to all video outputs. Once configured, the processors operate as a single system without the need for front-end switching or distribution amplifiers.
| System Size | Maximum Inputs & Outputs |
| --- | --- |
| 1 processor | 40 |
| 2 processors | 72 |
| 3 processors | 104 |
| 4 processors | 136 |
| 5 processors | 168 |

Software

Quantum Ultra II Configuration and Control
For flexible configuration and control of Quantum Ultra II, Extron offers two user-friendly software applications. Videowall Configuration Software - VCS facilitates quick and easy system setup and operation. EMS Express Mobile Software - Quantum Ultra provides wireless, multi-platform control of a videowall system.
VCS features an intuitive interface, task-oriented workflow, and advanced configuration functionality. It gives you the power and flexibility required to get Quantum Ultra II up and running fast, without sacrificing ease of use.
Window presets are created by dragging and dropping sources onto a virtual representation of the videowall. Familiar editing controls streamline layering, aligning, and sizing of source windows. Online and offline editing allows creation and configuration of systems with or without an attached processor. Live and Preview modes provide the option for immediate or controlled wall response to edits.
Whether managing a few windows on one or two displays, or hundreds of windows across a multitude of displays, VCS provides an efficient solution for configuring and controlling Quantum Ultra II.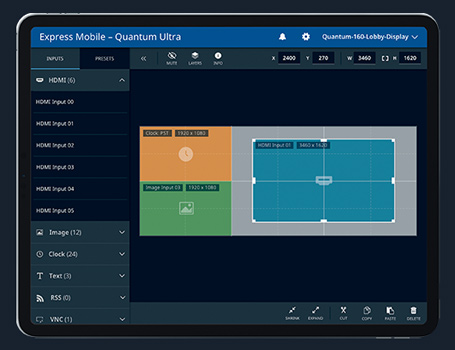 Convenient, Multi-platform Control
EMS - Quantum Ultra II combines the freedom of wireless control with an intuitive, easy to use application. It is compatible with Apple® iOS®, Google® Android™, and Microsoft® Surface platforms.
Familiar finger gestures facilitate preset selection, window size and position, source selection, and other common operational tasks. It can act as the sole point of control or work in conjunction with VCS and a control system, such as an Extron IP Link® Pro control processor and a TouchLink® Pro touchpanel. Up to 10 mobile devices can control the Quantum Ultra II system. Separate User, Designer, and Administrator credentials define operational roles.