Extron Offering Quantum Connect with HDMI at New, Lower Pricing
Public relations contact:
Joe da Silva, Vice President of Marketing
Extron
E-mail: pr@extron.com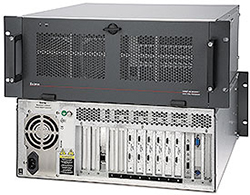 Anaheim, California (July 16, 2015) - Extron Electronics is pleased to announce that the Quantum Connect videowall processor is now offered in two popular HDMI configurations with new, lower pricing. The Quantum Connect 82 and Quantum Connect 84 feature eight HDMI inputs and two or four HDMI outputs. They deliver the same high quality video scaling, windowing capability, and reliable, real-time performance as Extron's flagship Quantum Elite processors. Quantum Connect is ideal for videowalls with two to four displays, delivering powerful, highly versatile video processing with flexible windowing capabilities. It is equipped with high performance video scaling technology capable of producing superior quality upscaled and downscaled images. Quantum Connect processors are ideal for crafting professional quality videowall presentations in public spaces, digital signage in retail environments, and control rooms.
"We're pleased to be offering Quantum Connect with industry-leading videowall processing capabilities in two popular configurations with highly competitive pricing," says Casey Hall, Vice President of Sales and Marketing for Extron. "These high performance processors feature a wide range of window customization and layout options for creating high impact videowall presentations."
The Quantum Connect 82 and Quantum Connect 84 maintain optimal full frame rate performance with a high-speed, 10 Gbps RAPT - Real-Time Asymmetric Packetized Transfer video/graphic bus that allows all inputs to be processed simultaneously, while preserving real-time control response and optimal image performance.
A variety of display scenarios can be pre-programmed or created on-the-fly using Quantum Connect Control Software, an intuitive control interface for setup and system operation. Restriction-free windowing allows complete flexibility when designing window layouts. All of this is complemented by high performance image scaling technology, which accurately preserves the original image quality at all window sizes.
For more information on the Quantum Connect please visit: www.extron.com/quantumconnect84pr