Extron Adds Patent-Pending Flat Field® Speakers and Other Enhancements to PoleVault® Systems
Public relations contact:
Joe da Silva, Vice President of Marketing
Extron
E-mail: pr@extron.com
Anaheim, California (May 12, 2009)
- Extron Electronics is pleased to introduce several key enhancements to the
PoleVault System
, Extron's innovative approach to classroom AV integration. This new equipment offers enhanced sound, connectivity, and mounting options to facilitate a better learning environment for schools, universities, and corporate training facilities. All PoleVault systems now include the FF 120, a full-range sound field speaker with Extron's patent-pending Flat Field™ technology, and the new PVT CV D PoleVault Composite Video and Stereo Audio Input Wallplate with IR pass-through. In the coming weeks, the PMK 550 PoleVault Mounting Kit and the PCM 340 Projector Drop Ceiling Mount with Adjustable Pole will also be added.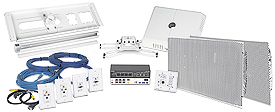 "Since its introduction in 2006, PoleVault Systems have provided the AV industry with an easy-to-use, easy-to-install, economical solution for classroom AV systems," says Lee Dodson, Vice President of Marketing for Extron. "These new enhancements provide the PoleVault Systems with increased sound quality, additional connectivity capabilities, and more flexible mounting options."
The FF 120 speaker easily drops into standard suspended ceilings and its low profile design is ideal for installations with tight, above-the-ceiling space issues. The FF 120 incorporates Extron's patent-pending Flat Field™ Technology for delivering consistent sound levels across a typical classroom using only two speakers. The PVT CV D has composite video and stereo inputs mounted in an elegant, decorator-style wallplate. It transmits the signals to a PoleVault switcher on one twisted pair cable and now includes an IR pass-through for controlling source devices, such as a VCR/DVD player or tuner. The PMK 550 is a secure equipment enclosure that allows the PoleVault switcher and power supply to be safely located above a pole mounted projector to reduce tampering and theft. Compared to the previous PMK 450 model, the PMK 550 now features reduced weight and setup time. The aluminum base plate with plastic cover construction are lightweight, and provide easy access to equipment while mounted on the pole. The patent pending PCM 340 includes a lightweight aluminum ceiling plate and also adds a slotted, adjustable pole for precise alignment, which was not available on the previous PCM 240.
The new enhancements will be incorporated into standard PoleVault Systems, and be available in the PoleVault System Configurator, an online drag-and-drop configuration utility that allows users to "build" PoleVault systems based on their specific AV requirements. The dynamic, graphical user interface makes system customization easy and helpful wizards ensure that only valid systems are built and vital accessories are included.