New PoleVault Digital Systems Feature 4K Local HDMI Inputs and Network Enhancements
Public relations contact:
Joe da Silva, Vice President of Marketing
Extron
E-mail: pr@extron.com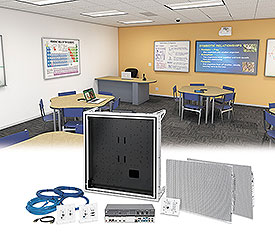 Anaheim, California (June 28, 2016) - Extron Electronics is pleased to introduce a new generation of PoleVault Digital Classroom AV Systems, powered by an upgraded ENERGY STAR® compliant switcher/amplifier with enhanced capabilities. The new systems provide 4K video switching to ensure compatibility with both current and future sources and displays. They also feature local HDMI inputs that are ideal for sources that do not need direct user access, including Extron ShareLink, Apple TV®, and Google Chromecast™, as well as CATV tuners and streaming decoders. In many cases, these devices can also be secured within the system enclosure. A new audio file playback capability allows pre-recorded emergency and informational announcements to be stored in the switcher memory and configured for automatic playback by the system. Four LAN ports allow the switcher to be configured and controlled over the network as well as provide data access for three additional Extron devices over a single network drop.
"New audiovisual technologies and collaborative methods of instruction are changing the AV requirements of modern classrooms," says Anthony Cortes, Director of Sales and Marketing, K-12 Classroom Systems for Extron. "These new PoleVault Digital Classroom AV Systems make it easy for school districts to deploy future-friendly technology that meets their needs."
Extron PoleVault Digital Systems are complete, easy-to-use AV switching and control systems that seamlessly integrate the most common classroom video sources. Each system contains all the necessary audio and video switching, audio amplification, system control, source connectivity, speakers, mounting hardware, and cabling for a complete classroom AV solution.
Visit our website at www.extronclassroom.com for more information.