The Extron Everlast Power Supply Trade-up Program
Our Everlast Power Supply Trade-up Program is ideal for Extron Customers. For any combination of fifteen 12‑volt PS Series power supplies returned to us on an authorized RMA, we will ship to the customer a new PS 125 multiple output 12‑volt DC, 60‑watt power supply. The PS 125 features eight 12‑volt DC outputs, providing a total of 5 amps across all outputs with no per-port current limitations. This power supply is designed to take the place of several individual PS Series desktop power supplies, which frees up space in the equipment rack.
Extron provides 12-volt power supplies with many products, but when power supplies are shared, the unused power supplies are tossed aside and could end up in a landfill. Extron customers have asked for a way to trade in these brand new power supplies, and we at Extron would like to avoid unnecessary waste.
The following PS Series desktop power supply's part numbers are eligible for this program.
28-327-07LF
28-331-07LF
28-327-27LF
28-331-57LF
28-327-57LF
28-416-57LF
These part numbers can be found at the top of the product label.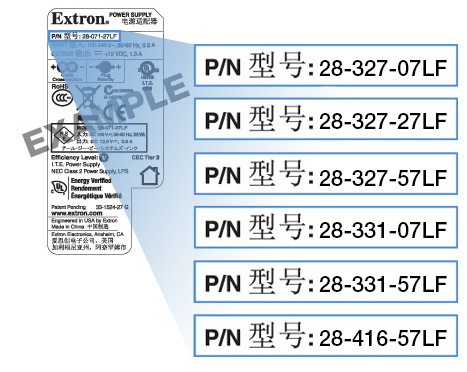 Power supplies must be unused and in their original packaging with the original power cords. Extron customers are responsible for shipping charges both to and from Extron.
The process is simple:
Contact your Extron representative to begin the process and issue an RMA number.
At your expense, pack and ship your Extron desktop power supplies to:
Extron
1230 S. Lewis St.
Anaheim, CA 92805
Reference RMA number on the outside of the box
- NOTE: Do not ship via US Postal Service.
Please contact your Extron Representative for more information.