Extron Power Supplies Reach the Demonstrated MTBF Mark of 1,000,000 Hours
Public relations contact:
Joe da Silva, Vice President of Marketing
Extron
E-mail: pr@extron.com
Anaheim, California (June 1, 2010)
- Extron Electronics is pleased to announce that our Extron designed and manufactured power supplies have reached the 1,000,000 hour mark in demonstrated MTBF, Mean Time Between Failures. This feat was accomplished by exposing the power supplies to extreme testing in our in-house heating chamber that supports elevated temperature as well as constant temperature conditions. While most manufacturers purchase off-the-shelf switch mode power supplies that can be subject to variations in quality and reliability, we design and manufacture our own power supplies to ensure Extron quality throughout the product. To demonstrate the exceptional performance of our power supplies, we subjected them to grueling testing that lasted more than two years. We simulated an accelerated operational life span by placing a sample quantity of power supplies in a heat chamber at an ambient temperature of 85°C. This produced a demonstrated MTBF rather than a less reliable calculated MTBF that is based on the stated specifications of the individual components.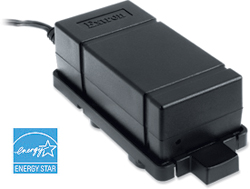 "This one million hour MTBF milestone highlights Extron's commitment to product quality," says Casey Hall, Vice President Sales and Marketing for Extron. "We are not aware of any other company that has gone to such lengths to guarantee power supply reliability."
Both the Extron PS Series of Desktop Power Supplies and Extron internal power supplies were tested. The energy efficient desktop power supplies are ENERGY STAR® qualified, and Extron internal power supplies consume less energy and generate less waste heat than conventional power supplies.