Extron Multi-Port Replacement Power Supply is Now Shipping
Public relations contact:
Joe da Silva, Vice President of Marketing
Extron
E-mail: pr@extron.com
Anaheim, California (January 4, 2011) - Extron Electronics is pleased to announce that the new PS 1230, an energy-efficient replacement power supply, is now shipping. This newest member of the PS Series of Desktop Power Supplies has three12 Volt 2-pole captive screw ports and offers a total of 3.0 amps across all outputs with no per-port current limitations. The PS 1230 is designed to conserve energy and reduce costs. The power supply snaps into the included ZipClip™ 200 mounting bracket for secure mounting to rack rails, tables, or lecterns. The PS 1230 also features a quarter-rack width, 1U enclosure with threaded inserts to mount the power supply directly on Extron rack shelves. The power supply is designed and engineered by Extron for increased durability and reliability with a calculated MTBF – Mean Time Between Failures – of over 400,000 hours to prevent power supply-related failures and disruption to system operation.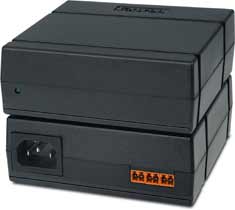 "These durable and reliable, energy-efficient power supplies were manufactured by Extron to support high current demands," says Casey Hall, Vice President Sales and Marketing for Extron. "They also save space and increase system efficiency since they eliminate the need to daisy chain power connections."
The PS 1230 includes a detachable IEC cord and two 6-foot DC cables: one terminated with a DC plug and pre-sliced ends, and the other pre-sliced at both ends. Another feature is a front panel LED to provide a clear visual that the power supply is active.