PlenumVault Direct View System
The Perfect System for Your Classroom Flat Panel Display
PlenumVault® Direct View Systems are complete classroom AV systems for flat panel displays. They deliver an excellent experience for students and instructors, providing enhanced audio and video quality for in-person, hybrid, and remote learning environments. There are multiple options to create a customized AV solution: user interfaces, AV signal extension, speakers, mounting hardware, and cabling. The system has advanced audio capabilities, including an integrated audio amplifier, audio input mixing, and line level outputs for remote learning or assistive listening. When coupled with a VoiceLift® Pro Microphone, the system lets students hear the instructor clearly throughout the room. Optional integration with Extron GlobalViewer® Campus Communication Suite implements campus-wide bells, public address announcements, and intercom communications over the network.
The Audio Capabilities and Integration You're Looking For
Built-in Audio Features
The PlenumVault Direct View System offers sophisticated audio capabilities, including HDMI ARC support and a powerful amplifier that simplify connection of audio from flat panel displays and produce full, rich sound that comes through Extron ceiling speakers. The ability to mix audio from various sources allows instructors to narrate over AV lesson presentations, add music, and perform other sophisticated audio management to make lessons more engaging. System audio can also be used for remote learning, or assistive listening.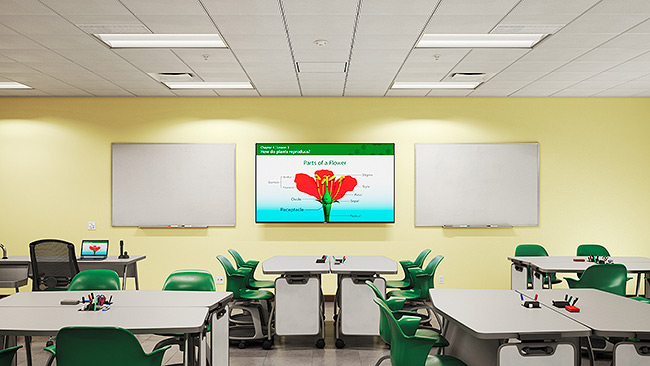 Add a VoiceLift Pro Microphone
Adding a VoiceLift Pro microphone allows voices to be evenly distributed throughout the room while our exclusive Flat Field® speakers deliver consistent sound levels across the listening area to each student. This voice amplification solution enhances communications and provides clear advantages for instructors and students.
Bells and Announcements
The PlenumVault Direct View System integrates with GlobalViewer Campus Communication Suite to enhance campus communication and enable bell, announcement, and intercom capabilities. Bell audio, public address announcements, and intercom communication can be played over the same speakers used for system audio. This eliminates the need for additional, dedicated speakers in the room.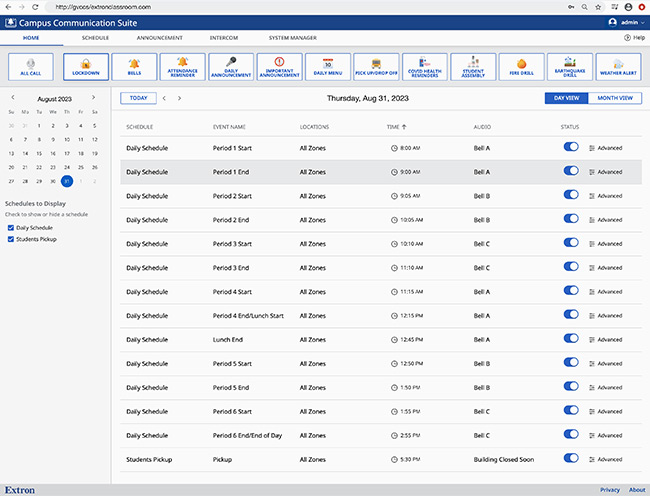 Intuitive AV Room Control
Built-in control capabilities simplify AV integration for learning spaces. You can easily control other equipment in the room via a range of control ports and interact with the system using an intuitive button panel or touchpanel. CEC capability streamlines control of displays and other compatible devices over the same HDMI cables that carry AV content. In rooms where one of these interfaces may not be present, you have the option of using a mobile device or computer as the system's primary control interface. The custom-built interface allows you to control the same devices you would typically control with a standalone touchpanel or button panel, but with the convenience of using your own device. With several user interface options to choose from, you can accommodate a broad variety of system designs.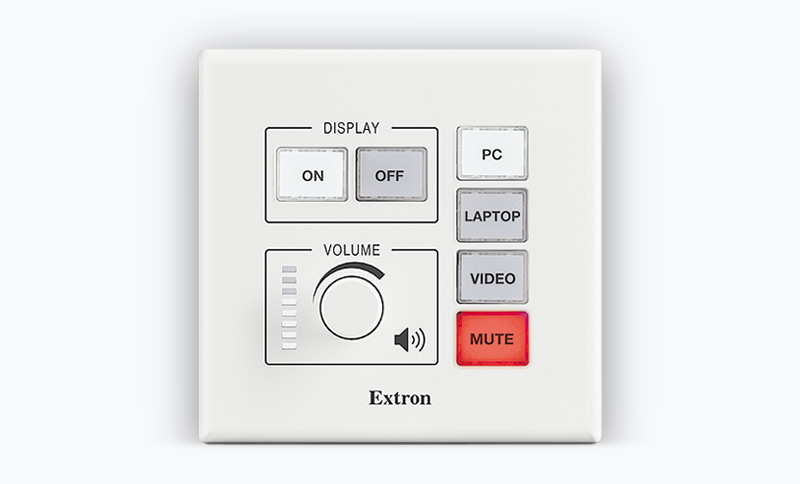 eBUS® button panels and Network Button Panels are customizable control panels that perform a variety of AV system functions and feature backlit buttons that make them easy to use in low-light environments.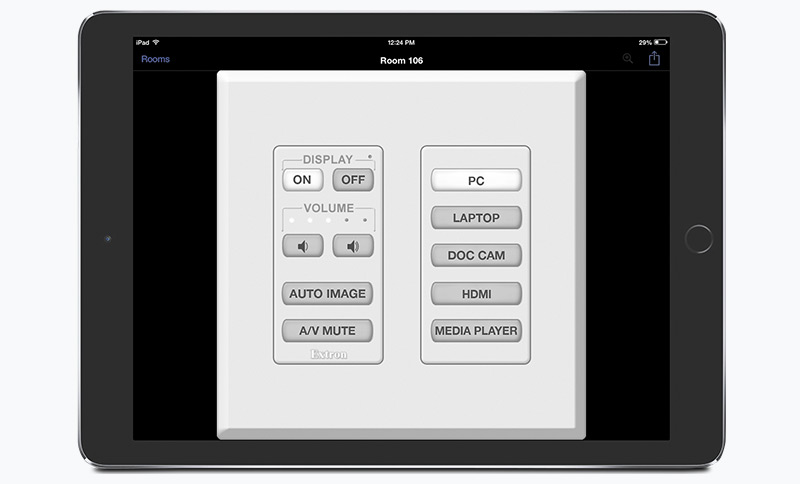 BYOD room control is easier than ever using the Extron Control app on your Apple iOS or Android device, or using Extron Control for Web.
TouchLink® Pro touchpanels provide complete, interactive control in a variety of rooms and presentation environments, using a fully customizable graphical user interface.
Seamless Integration with Extron GlobalViewer Campus Communication Suite
GlobalViewer Campus Communication Suite is the modern, simple way to implement bells, public address announcements, and intercom communications throughout campus over the network from an intuitive web browser interface.
Flexible Bell Scheduling
The intuitive, web-based application allows personnel to view and administer bell schedules, broadcast public address announcements, and have two-way voice communication using the intercom system. Flexible bell scheduling capabilities enable you to create and maintain recurring schedules locally or at the district level. For special events, such as holiday closures or rallies, you can easily modify or disable them as needed.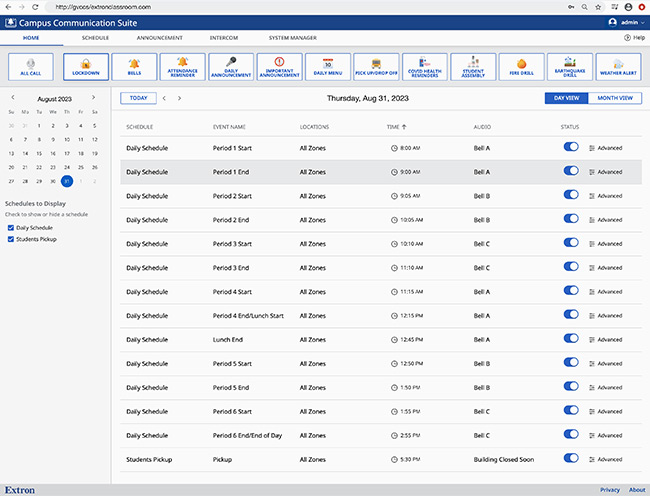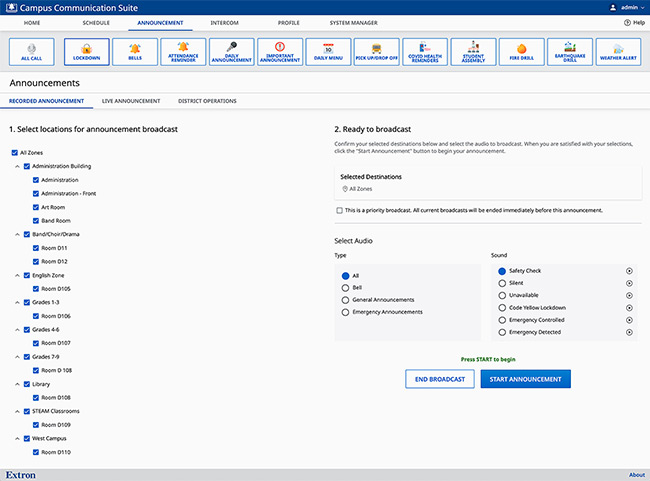 Announcements
The All Call option enables personnel to make an immediate announcement with the press of a button. Live and pre-recorded announcements can also be broadcast to multiple campuses within a district, all locations on a campus, a particular area, or a specific room.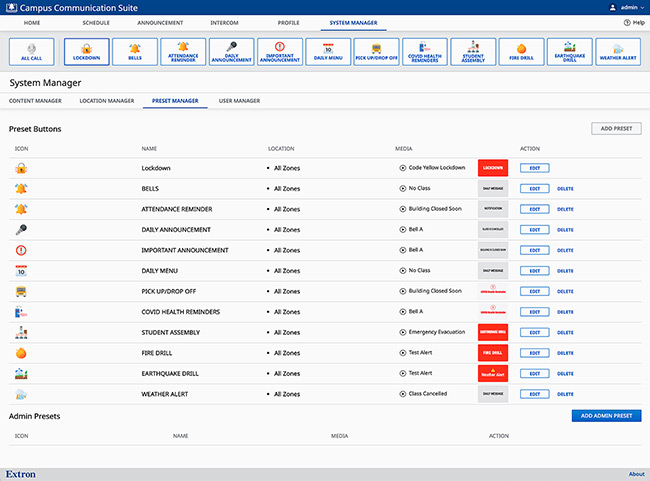 System Manager
The System Manager allows administrators to manage presets and pre-recorded audio files for announcements and bells. You can also define the locations of Extron classroom AV system devices on the network. To facilitate operations, GlobalViewer Campus Communication Suite provides the ability to manage user access and their roles.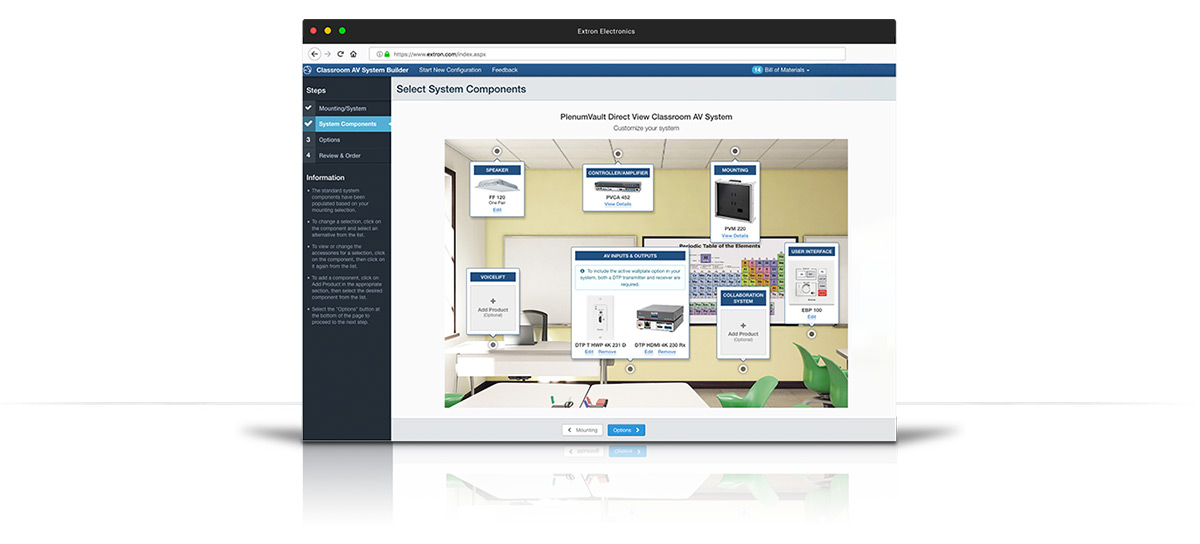 Flexible System Customization
You can tailor the PlenumVault Direct View system to meet the specific needs of users and the environment. Adding a ShareLink® Pro Wired and Wireless Presentation System delivers several additional capabilities. It facilitates collaborative learning and content sharing by letting users present content from BYOD laptops, tablets, and smartphones to the room's flat panel display. When ShareLink Pro is not being used for a collaboration session, it can act as a signage display. Content can include H.264 streams, videos, or images for events, announcements, or signage.
Learn more about ShareLink Pro
The online Classroom AV System Builder allows you to create a customized AV solution. The dynamic, graphical user interface makes customization easy while ensuring that only valid systems are built and vital accessories are included. When customization is complete, the builder generates a single part number which simplifies the way you specify and order your system.