Plenum-Rated — More Than Just Cables and Speakers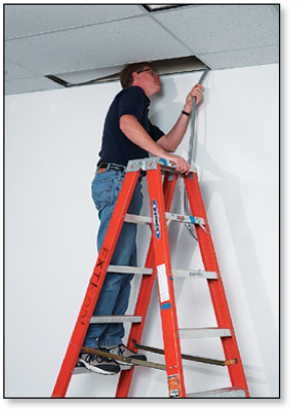 Many of us automatically think of cable or speakers when we hear the word "plenum". It is generally known that Extron has offered plenum-rated cable for years; however, many are unaware that we offer other types of plenum-rated products as well. These products are designed to provide convenience and installation flexibility above the ceiling or in other environmental air spaces. Concealing equipment in these spaces can also prevent theft, and it is a useful option when space inside the room is limited. Just as our architectural connectivity products provide aesthetics and flexibility in installations, our plenum-rated products enable clean, discreet, and innovative ways to install and manage AV systems.
Our plenum-rated products conform to UL standards, which means that, excluding power supplies, they meet UL 2043 for smoke and heat release in air-handling spaces (see sidebar). These products include mini power amplifiers and many IP Link ® products. Products that conform when used with the Flexible Conduit Adapter Kit include the PS 124 power supply, the XPA 1002 power amplifier, and the XPA 2001-70V power amplifier.
Audio Power Amplifiers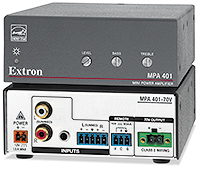 MPA 401
The Extron MPA 401 is a quarter rack width, convection-cooled mono amplifier delivering 40 watts rms output power for 70 volt or 100 volt speaker systems. The MPA 401 is an ENERGY STAR® qualified and UL verified amplifier with an Extron exclusive, highly efficient, advanced Class D amplifier design.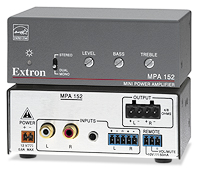 MPA 152
The Extron MPA 152 integrated Mini Power Amplifier provides stereo amplification and delivers 15 watts rms per channel into 4 ohms and 8 watts rms into 8 ohms. The MPA 152 features an Extron exclusive, highly efficient, advanced Class D amplifier design.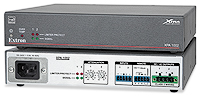 XPA 1002
The XPA 1002 two-channel amplifier delivers 100 watts rms per channel into 4 ohms or 60 watts rms per channel into 8 ohms for amplification of voice or program audio content to stereo program speakers, or two sets of distributed ceiling speakers in a dual zone application. The XPA 2001-70V delivers 200 watts rms for 70 volt constant voltage speaker distribution systems in voice reinforcement and public address applications.

The Extron XTRA™ Series power amplifiers can be adapted for plenum environments. When used with the Flexible Conduit Adapter Kit, the XPA 1002 and the XPA 2001-70V power amplifiers meet UL 2043 for smoke and heat release in airhandling spaces above a drop ceiling. With compact, plenum-rated 1U, half rack width enclosures, the XPA 1002 and the XPA 2001-70V deliver ample power to drive speaker systems in classrooms, meeting rooms, boardrooms, and commercial environments.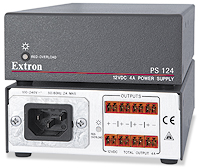 PS 124
The PS 124 is a multiple output power supply designed to power a number of Extron products in a system. It can provide power to Extron Architectural Series interfaces, Mini Twisted Pair Series, and IP Link® products. When installed with the Flexible Conduit Adapter Kit, the PS 124 is plenum-rated and can be mounted above the ceiling to provide centralized power. The PS 124 provides eight 12VDC power outputs using eight 2-pin captive screw connectors. Each output can draw up to the cumulative 4.0 amp maximum output.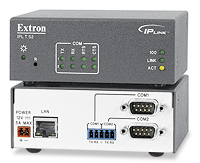 IP Link Products
Extron's plenum-rated product portfolio also includes a variety of IP Link Ethernet control interfaces with varied capabilities. These include the IPL T S Series of compact Ethernet control interfaces and the IPL T CR48 , which are designed to give users the ability to remotely monitor and troubleshoot equipment.
UL Safety Standards
Equipment installed in open air-handling spaces above the ceiling or below the floor must meet specific environmental and fire protection regulations, since a fire would spread quickly in an area of high airflow. Plenum-rated cable, for example, complies with NEC - National Electrical Code requirements for the use of wire in areas used for air circulation within a building. To determine whether cable complies with NEC requirements, NFPA 262 (formerly UL910) tests for flame propagation and smoke density values of electrical and optical fiber cables used in spaces transporting environmental air.
Other products obtain the plenum rating when they meet UL 2043. UL 2043 tests for heat and visible smoke release from products installed in air-handling spaces. Products tested are subjected to an open flame ignition source and evaluated using a product calorimeter. The purpose of the test is to measure the rate of heat and smoke release of burning product samples and determine whether they meet the requirements for fire-resistant and low smoke-producing characteristics in accordance with the provisions of the National Electric Code, NFPA 70.
Test Results are acceptable when:
The peak rate of heat release measured during each test is 100 kilowatts or less.
The peak normalized optical density measured during each test is 0.50 or less.
The average normalized optical density is 0.15 or less during a 10-minute test.